When:
11 September, 2021 – 12 September, 2021
all-day
2021-09-11T00:00:00-04:00
2021-09-13T00:00:00-04:00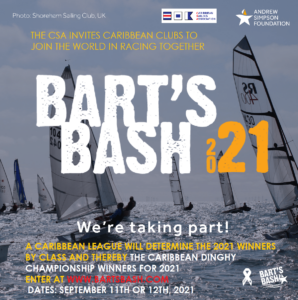 The Caribbean Sailing Association (CSA) is delighted to announce the 2021 Caribbean Dinghy Championship (CDC) will take place in association with the Bart's Bash in September, 2021.
With the ongoing challenges that COVID-19 is presenting to the world, the CSA Board agreed that it would be impossible both logistically and financially to host a CDC this year, and approached the Bart's Bash Event to see if they would be interested in creating a Caribbean division within the event.
President Alison Sly-Adams said, "We don't want to let another year pass without regional competition.  Although it is not the same as coming together in person, we are immensely grateful to the Andrew Simpson Foundation and the Bart's Bash team for providing us with the opportunity to connect with sailing communities across the world in this way. We hope that sailors in the region will be inspired to take part in their island's event with the added incentive that there will be class winners decided across the region who will be named the Caribbean Dinghy Champions for 2021."
The Bart's Bash is the flagship annual event of the Andrew Simpson Foundation (ASF), inspired by Olympic Gold and Silver medalist Andrew 'Bart' Simpson MBE who passionately believed that everyone should have the chance to try sailing and enjoy the many benefits that it brings. Bart's Bash is a global sailing race taking place at hundreds of venues, with thousands of sailors in hundreds of different classes of boats around the world. Founded in 2014, the event was verified by Guinness World Records as 'The Largest Sailing Race in the World'.
The CSA Board are encouraging all clubs around the region to take part this year in the Bart's Bash. Each club or Member National Authority can opt to raise funds for the ASF or for another cause. The CSA would like to encourage all clubs to make a donation to the ASF as well as a local or regional cause.
To register visit www.bartsbash.com and follow instructions, then please confirm with the CSA secretariat so that she can ensure your club or MNA is included in the Caribbean leader board. Please also indicate on which day you are going to host the event (11th or 12th of September) and which classes you will be racing. The Bart's Bash website provides a login where you will find a toolkit for fundraising, marketing and race documents. Please add the CSA logo to your local poster to show that you are also taking part in the CDC.
For your sailors to be considered for the Caribbean Dinghy Championship, all results will need to be submitted within one week of hosting the event as detailed on the Bart's Bash website.
We look forward to seeing all of the great coverage on social media channels and will be sharing via the CSA channels. Use Hash Tags as follows: #BartsBash2021 #CDC2021 #CaribbeanStrong #CSA