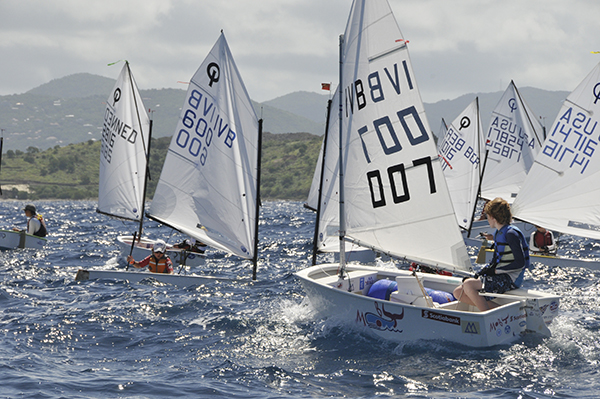 St. Thomas, US Virgin Islands. Register now! The International Optimist Regatta (IOR) celebrates its 22nd edition, marking over two decades of fostering junior sailing in the Caribbean. Dates for the regatta and kick-off Sea Star Clinic and Sea Star Team Race are June 16th to 22nd, 2014.
Recognized as one of the first and largest regattas in the Caribbean to promote youth sailing, the 2014 IOR welcomes participants from around the world.
"We look forward to hosting sailors from throughout the Caribbean, U.S. mainland and World," says regatta director, Margo Lynch. "New this year we will welcome a team from Germany."
Nearly 100 8- to 15-year-old junior sailors are expected to attend this St. Thomas Yacht Club- and Virgin Island Sailing Association (VISA)-hosted and Caribbean Sailing Association (CSA)-sanctioned regatta.
"Participation in the International Optimist Regatta is a wonderful way for our youth to form friendships and a sense of camaraderie with their fellow competitors from around the Caribbean and the World," says Beverly Nicholson-Doty, the U.S. Virgin Islands' Commissioner of Tourism. "In addition, sailing is a sport that teaches our youth many life-lessons such as concentration, self-reliance, determination and sportsmanship."
The Sea Star Clinic begins Monday, June 16th and runs through Wednesday, June 18th. The clinic will be taught by some of the top coaches in the world including Agustin 'Argy' Resano, Gonzalo 'Bocha' Pollitzer, Manny Resano, Pepe Betini, Lucas Calabrese and Eric Bardes. All of these coaches have 10 or more years of Optimist coaching experience in a number of different countries.
"The clinic will be focused on starts, strategy and tactics. The starts and the three minutes after the starts is probably the most important part of the race, so we will be working very hard on this area," explains Agustin 'Argy' Resano, USVI National Team coach. "The Clinic is an especially great opportunity for sailors that don't often have an opportunity to sail in big fleets, such as those from Caribbean countries, to do so and practice their technique."
Cost of the clinic is $300 for non-U.S. Virgin Islands' registrants and $275 for U.S. Virgin Islands' residents, and includes breakfast and lunch for the three days. Clinic registration closes on May 15th.
The Sea Star Team Racing event is scheduled for June 19th.
"We are expecting 16 competitive teams," says Resano.
Teams of 4 to 5 sailors will race against each other. Results of each team combined decide the winner in contrast to fleet racing where sailors are scored individually.
Entry fee for the team racing is $160 per team of 4 sailors. Registration closes at 5 p.m. on June 18th.
"Sea Star Line is honored to sponsor the 2014 Sea Star Line Clinic and Team Race for 7th consecutive year," says terminal manager, Clarence Nibbs. "Sea Star Line has always been guided by strong values of safety, reliability, and commitment. We continue to make commitments to the communities that we serve by promoting youth and community events that foster the development of our future. As always, we hope to help build a sense of self confidence, purpose, and discipline in a fun and safe environment by promoting these types of life lessons for our children."
The three-day fleet race International Optimist Regatta kicks off Friday June 20th.
The regatta entry fee is $225 by May 15th and $250 after May 15th. Those that register prior to May 15th will have their names entered into a special drawing to win top-notch prizes. Final registration takes place June 19th. The entry fee includes an event T-shirt, registration 'goodie' bag, and all meals from Thursday June 19th Welcome Party through Sunday's Brunch.
Shore side activities include an opening Parade of Nations, a Welcome Party and Caribbean-themed night that includes fire dancers. The fun culminates with a beachside brunch and Awards Ceremony on June 22nd.
Trophies will be awarded to the top five sailors in each fleet and top three overall. Additional trophies include the Peter Ives' Perpetual Trophy, the Chuck Fuller Sportsmanship Award and the top female sailor. The Sea Star Perpetual Trophy will be inscribed with the names of the sailors on the winning team racing team.
This year's event marks the third year that the IOR has taken part in Sailors for the Sea's Clean Regattas program. This program, the only ocean conservation nonprofit focused on the sailing and boating community, encourages regatta participants to recycle all plastic water bottles, use the reusable water bottle provided in goodie bag throughout the regatta, keep all lunch bags and wrapping out of the water and pick up any trash on shore and accept drinks without straws.
For more information, call 340-775-6320; fax: 340-775-3600, or Email:internationaloptiregatta@gmail.com. Or, for the Notice of Regatta, Registration Forms, information on hotel discounts and other information, visit the St. Thomas Yacht Club web site at www.styc.net
Please also visit the International Optimist Regatta on Facebook!
For charter boats, contact Alisa Forester, McLaughlin Boat Works,
1-800-784-6478, 1-423-875-0740, Email: alias@optistuff.com or http://www.optistuff.com
ABOUT THE SPONSORS
U.S. Virgin Islands Department of Tourism. The U.S. Virgin Islands are located in the Eastern Caribbean 1,100 miles southeast of Miami, Florida, USA. Each of the three major islands–St. Croix, St. Thomas and St. John–possesses a unique character of its own. Visitors can enjoy a wide range of watersports as well as immerse themselves in the territory's rich culture by enjoying historical tours, culinary encounters, artisan fairs, parades, storytelling and other special presentations.www.visitusvi.com
Sea Star Line, LLC. Headquartered in Jacksonville, FL, Sea Star Line offers cargo transportation services from North America to Puerto Rico and the US Virgin Islands. Sea Star's RO/CON vessels are the most versatile in the trade – able to carry the widest range of unique and diverse cargoes. Company operations are certified to ISO 9001 Quality Management, ISO 14001 Environmental Management, and ISO 28000 Supply Chain Management.  www.seastarline.com
Save