The organisers of Antigua Sailing Week announce the online publication of its 2023 Notice of Race.  Campaigning skippers & crew on racing monohull, multi-hulls, bareboats, race-charter outfits, cruisers and sport boats from around the world are invited to participate in the 54th edition of this Caribbean anchor April 29 through May 5, 2023. Interested parties can enter the event directly via the Yachtscoring platform.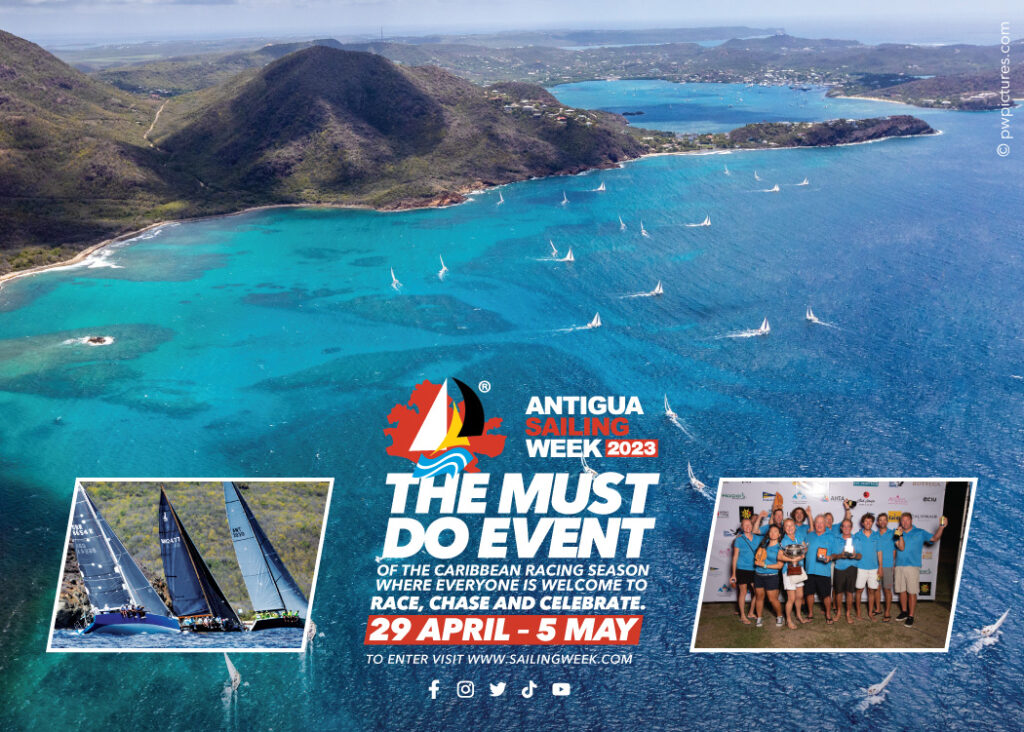 The superb conditions, including guaranteed trade winds and warm waters with big seas right outside of English Harbour, Antigua make for an exciting and challenging racing venue. In addition to a reliable international airport with direct connections to all major destinations, the island is also a convenient yacht shipping and transport hub, allowing hassle-free return of vessels post race to the UK, North America and Mediterranean. Additional information on the destination is available on the event website.
This year's recently concluded event boasted a slew of international and regional entries from more than 20 countries. Over 90 yachts assembled for a week-long spectacle of competitive racing and incredible shoreside events.
Get ahead of the competition and ENTER NOW for the best rates of the season.
ANTIGUA SAILING WEEK
Antigua Sailing Week, considered one of the Caribbean's most prestigious regattas, is held annually at the end of April and the 54th edition will commence with the Round Antigua Race on Saturday, April 29, 2023. Following that will be five days of competitive racing off the rugged south coast of Antigua, wrapping up on Friday, May 5, 2023.
For full details on Antigua Sailing Week and the Round Antigua Race including news, photos, videos and results, visit the official website:http://www.sailingweek.com.
ASW 2023 CONFIRMED SPONSORS 
Ministry of Tourism, Investment & Economic Development  – http://www.visitantiguabarbuda.com
Dream Yacht Charter – http://www.dreamyachtcharter.com/
Locman Italy – https://locman.it/en/
APUA Inet – http://www.apuainet.ag/
Virgin Atlantic –  https://www.virginatlantic.com
OFFICIAL VENUES
Antigua Yacht Club – http://www.antiguayachtclub.com
National Parks Antigua – http://www.nationalparksantigua.com/
FOR INFORMATION
Website: http://www.sailingweek.com
Facebook: http://www.facebook.com/antiguasailingweek
Twitter: http://www.twitter.com/antiguasailingweek
Instagram: http://www.instagram.com/sailingweekantigua
#antiguasailingweek #ASW54 #racechasecelebrate
PRESIDENT & COMMERCIAL DIRECTOR: 
Alison Sly-Adams
Tel: +1 (268) 729-6651
E-mail: cd@sailingweek.com
EVENTS & MARKETING MANAGER:
Rana-Jamila Lewis
Tel: +1(268) 729-2722
E-mail: rana@sailingweek.com
RACE MANAGER:
Jaime Torres
Tel: +1(787) 640-0849
E-mail: jaime@sailingweek.com
MEDIA ENQUIRIES/IMAGE REQUESTS:
Trish Jenkins
International Press Officer
Tel: +44 7880 581689
E-mail: media@sailingweek.com