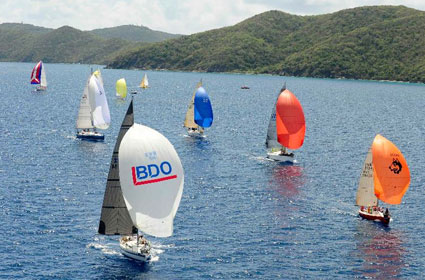 Tortola, British Virgin Islands (BVI), April 1, 2012 — A southeasterly breeze of about 12-15 knots emanating from Dead Chest Island, provided shifty conditions for a tense last day of racing at the BVI Spring Regatta & Sailing Festival. Today all classes raced in the Sir Francis Drake Channel outside Nanny Cay and there was a lot of traffic to contend with. Probably the most important factor was staying in clear air and spotting the shifts as they whipped over and around the chain of islands on the south side of the Channel. Racing in the Sir Francis Drake Channel on the last day of the 41st BVI Spring Regatta & Sailing Festival Credit: ©Todd VanSickle/BVI Spring Regatta & Sailing Festival Regatta .
Chairman, Bob Phillips has been on the water every day during the regatta and he is rightly proud of the 2012 edition: "Above all, sailors love sailing and the BVI Spring Regatta has an excellent race area. In the present economic climate an entry of 100 boats has got to be seen as a success, especially as we have attracted larger yachts including seven Swans and the STP 65, Equation.
However, the BVI Spring Regatta & Festival is not just about the big boats. This year the event celebrates its 41st year and it has always been about providing good racing for a wide variety of people on the race course and great entertainment back on the shore." In the Multihull Class, Peter Aschenbrenner's ballistic trimaran Paradox, was the comfortable winner. This is Peter's first regatta although he is no stranger to the BVI: "This is my fourth trip to the BVI. It's such a spectacular place and I have to say that we have really enjoyed the regatta, largely because of the courses that we have been given, especially mixing it up with the keelboat fleet on the second day. It would be great to have some other multihulls of the same speed. The atmosphere at the regatta is excellent, we would just like a bit more competition."
In Class 1, clear air at the start is something that Stefan Lehnert's Tripp 56, Passion 4C has been wanting throughout the regatta, but Bill Alcott's STP65, Equation has just too much speed. Although Passion 4C have started well all week, the German team was not able to hold their lane. However, two short windward leeward races today favoured Passion 4C and the German team put in a perfect performance to finish the regatta in style winning both races. Jason Putley was spotted on board Equation today, a big treat for the 13-year-old BVI bowman.
In Class 2, Peake Yacht Service, RP37, Slippery took the first race of the day to put pressure on class leader, Willem Wester's Grande Soleil 46, Antilope. The two Farr 400s pinned Antilope out on the left of the course and Slippery got away well on the favoured right side and covered Antilope from the front, effectively slowing them down. However, Antilope came back strongly in the last two races to take the class title. Blade won the battle of the Farr 400s, beating Magnitude in all three races today.
In Class 3, Richard Wesslund's J/120, El Ocaso put in another solid performance, scoring a win in the first race and two 2nd places to clinch the class win. El Ocaso has not scored out of the top three in the nine race series. Jaime Torres' First 40, Smile and Wave has a conventional spinnaker pole and today's windward leeward racing is probably what the Puerto Ricans wanted all week. However the team will take great satisfaction is scoring two wins today. Ondeck's First 40, Lancelot II skippered by Chris (Jacko) Jackson claimed third. In the Melges 24 division, Andrea Scarabelli's Budget Marine/Gill from St.Martin held off local BVI team, Fire Water skippered by Henry Leonnig. In Class 5, Ian Hope-Ross First 36.7, Kick 'em Jenny corrected out to win the first race of the day and two further podium finishes secured the class win for the team from St.Martin. Kevin Rowlette's Olson 30, Rushin' Rowlette sailed extremely well today and was rewarded with two race wins but the Tortolans had to settle for second place for the class, but Kevin Rowlette was delighted to be named best BVI Boat at the regatta winning the Premier's Cup: 'It's been a lot of fun, great sailing on an interesting variety of courses and we were really in with a good chance of winning the Class, but losing a guy over the side with the spinnaker up doing 10 knots put an end to that, but we got him back on board okay. It is really an honour to be named best BVI boat as there are so many good BVI teams at this regatta."
In Class 7, there was a dramatic change to the overnight standings. Class leader, Henry van Melle's J/46 Jent went from 1st overall to 3rd. Andy Middleton's First 47.7, Global Yacht Racing scored three podium finishes to clinch second place in the class but it was a very happy Christian Reynolds on the dock after today's racing. His Swan 51, Northern Child scored two wins and a 2nd to win the class: "With light weather and windward leeward courses, I knew Andy (Middleton) was the biggest threat today," admitted Reynolds. "Jent has small headsails to reduce her rating and we thought they wouldn't go well in the light, but I have to put a lot of credit down to our crew. It was busy out there and we had to keep concentrating and pulling off the maneuvers and we knew that would put us in with a chance. Winning at this regatta is very special, it really is a lot of fun and we fully intend to fill the trophy with Mount Gay Rum tonight and celebrate long into the evening."
In Class 8, Warren Thring's Cold Beer raised a cheer scoring their first podium finish of the regatta but Antonio Sanpere's J/36, Cayennita Grande won the first race today by a huge margin to secure the class win. In Class 9 Jon Charlton & Claude Bonanni's Team Red Stripe won today's only race. However, Keith Smith LiGreci's Girasoli came 2nd, which was enough to secure the class win: "This is the first major regatta with the boat and we are absolutely delighted to win our class," said Keith. "Although Girasoli is new this year, the team have been sailing together for years with Bill Berardelli who passed away recently and I would like to dedicate this win to his memory, he was a great guy." In the IC24 Class, Frits Bus finished the 14-race series in style to clinch the overall victory with Andrew Waters', Conch-Querer second. There was an intense battle for the last podium position between Peter Houtzagers' Satisfaction and David Irwins' Grey Ghost; Satisfaction won the encounter by a single point.
In Bareboat 1, Dick Backstom's Soul Mates finished the regatta on a high winning the last race. However the class title goes to Christine Joseph's Sexy and We Know It. Tijmen van Elst's BK Grondlogistiek takes second with Soul Mates third. In Bareboat 2, Neil Harvey's Acadia won today's race and an outstanding protest was dropped giving Acadia the overall class title. Bill Petersen & Peter Stazicker's Team Trolly Car were second overall and Rob Swain Sailing School racing Perelandra scored a third in today's race to win a close battle with Team Cape Fear and AvalonRacing, to take 3rd place for the regatta. In the Bareboat Class the winner of the International Yacht Club Challenge is BK Grondlogistiek representing the IJmuidenYacht Club in Holland, winning the substantial prize of a week's free charter in the BVI from Sunsail. The second prize of two round trip tickets from Cape Air goes to Avalon Racing representing the Caernarfonshire Yacht Club in Wales.
Tonight's Prizegiving will bring the BVI Spring Regatta & Sailing Festival to a close. 2,000 revelers are expected to pack out the Regatta Village at Nanny Cay with cabaret provided by Moko Jumbies striding through the beachside tents on giant stilts. Live music from Gazebo should light the blue touch paper with a set including reggae, rock & roll and rock anthems. Tonight's closing party is expected to be massive!
For more information about the BVI Spring Regatta & Sailing Festival go to: bvispringregatta.org Warm Water — Hot Racing. Guaranteed.
Save
Save