St. Thomas, US Virgin Islands. Want to tune-up for the Optimist World Championships in Turkey this summer? Or learn new tactics for a summer of racing? Register now for the International Optimist Regatta (IOR), the TOTE Clinic, and TOTE Team Race. Only 20 spots are left! Plus, early entry registration is $275 through May 15; $300 after this date. This trio of events takes place from June 13 to 19, 2022, at the St. Thomas Yacht Club, in St. Thomas, U.S. Virgin Islands. More specifically, the TOTE Clinic happens June 13 to 15, followed by the TOTE Team Race, on June 16, and the IOR, June 14 to 16.
"Already, we have sailors registered representing Antigua, Canada, Puerto Rico, the U.S. Virgin Islands, and several states in the U.S.A.," says Emily Zimmerman, regatta director, and STYC Commodore. "Soon starting its fourth decade, the IOR's combination of a clinic, team race, and regatta has proven successful and sought after as an event and for preparing sailors for upcoming events. We are pleased to have sponsors such as the K3 Company support this event."
The K3 Company Sponsors Iconic Sailor Bags
The K3 Company, a global manufacturer of premium outdoor gear and accessories, will provide its Drifter 20-liter backpack in neon and orange to registered IOR sailors. Uniquely, it's a dry bag and backpack in one, with roll-top closure, and quick-drying mesh straps. Designed to float, high-visible reflective logo markings make the bag easy to see day or night. Sailors and their families can find additional K3 items to mix or match on St. Thomas at all three Caribbean Surf Company locations and on St. John at Big Planet and Low Key Watersports.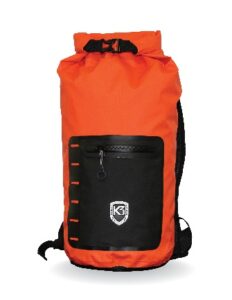 "We at K3 love sailing and the IOR! We are proud to be a sponsor and more important to follow the competition and well as the competitors from junior sailing all the way to Olympic spotlights! The relentless pursuit of excellence, hard work, and competitive spirit. Wish it, dream it and do it," says Lisa Keogh, K3 General Manager.
Three In One Event
The spectacular week of junior sailing kicks off with the TOTE Maritime Clinic, June 13 to 15. Some of the best Optimist coaches conduct on-the-water training sessions instructive on-land debriefs for both Advanced (age-divided Red, White, and Blue Fleets) and beginner (Green Fleet) sailors.
"It's a super complete week with 3 days of clinic, team racing regatta, and 3 days of fleet racing. It is hard to fit all these in one week anywhere else in the world, but it's possible in the Caribbean because of the great conditions. If I must choose anywhere in the world to sail/train for one week, I will choose the Caribbean every time. We have the best conditions and every sailor that participates becomes a way better sailor after our IOR week," says Agustin 'Argy' Resano, St. Thomas Yacht Club coach, and Clinic and Team Race organizer.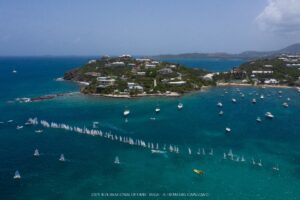 Over a dozen teams are expected for the TOTE Maritime Team Race, on June 16th. The entry fee for this one-day event is $160 per team of 4 sailors. Registration is available only on-site from 8 a.m. to 5 p.m. on June 15th.
The IOR sets sail from June 17 to 19. The regatta entry fee includes an event T-shirt, registration 'goodie' bag, and all meals from Thursday dinner through Sunday's Brunch.
Trophies will be awarded to the top five finishers in the Red, Blue, and White classes and the top three overall as well as the top place female. Participation awards will be awarded to all Green fleet sailors. Additional awards include the Peter Ives' Perpetual Trophy (superb sailor/individual) and the Chuck Fuller Sportsmanship Perpetual Trophy.
The IOR is sponsored by TOTE Maritime, the U.S. Virgin Islands Department of Tourism, and K3 Waterproof Gear.
For more information, call (408) 314-7119, or Email: internationaloptiregatta@gmail.com Or, for the Notice of Regatta (NOR), Registration Form, and other information, visit the St. Thomas Yacht Club website at stthomasyachtclub.org/sailing/regattas/international-optimist-regatta or Regatta Network: www.regattanetwork.com/event/23549.
The last day to charter boats is May 13, 2022. For charter boats, contact McLaughlin Boat Works: https://optistuff.com/product/st-thomas-international-regatta-and-clinic-combined/
Please also visit the International Optimist Regatta on Social Media!
ABOUT THE SPONSORS
TOTE. TOTE is a domestic ocean freight carrier headquartered in Jacksonville, Florida, that offers freight services for containerized cargo between the U.S., San Juan, Puerto Rico, and U.S. Virgin Islands. TOTE is the first carrier to operate liquid natural gas (LNG) powered vessels. www.totemaritime.com
U.S. Virgin Islands Department of Tourism. The U.S. Virgin Islands are located in the Eastern Caribbean 1,100 miles southeast of Miami, Florida, USA. Each of the three major islands–St. Croix, St. Thomas, and St. John–possess a unique character of its own. Visitors can enjoy a wide range of watersports as well as immerse themselves in the territory's rich culture by enjoying historical tours, culinary encounters, artisan fairs, parades, storytelling, and other special presentations. www.visitusvi.com
Media contact:
Carol Bareuther
Tel: (340) 998-3650
Email: bareuther@earthlink.net
Skype: Carol.Bareuther