The RS Cat14 catamaran and it's bigger sister the RS Cat16 take the enjoyment associated with sailing traditional beach-style catamarans to a whole new level.
The durability and stiffness achieved through the use of  Comptec PE3 roromoulded polyethylene hulls, coupled with the balanced feel of the steering when sailing make both of these world class sailboats perfect for not only recreational sailing, but also as additional equipment for sailing programs wishing to provide a more 'performance' oriented youth / adult training pathway.
If your organisation uses sailing catamarans as part of its water-sports activity program and is interested in updating the current catamarans being used then why not consider the RS Cat14 or Cat16 when it comes to making your next purchase.Contact our International Business Development team directly for more information on either boat or to receive a detailed quotation based on your specific requirements.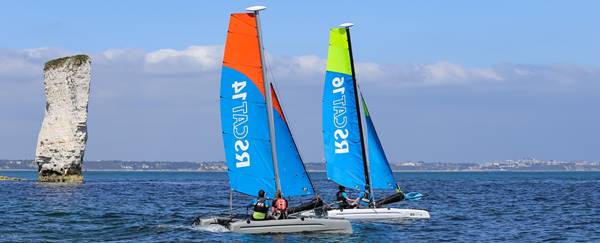 Durability – Convenience – Innovation – Excitement
The RS Catamarans utilize a unique 'design protected' construction system for joining the cross-beams to the hulls, which provides increased stiffness to the overall sailing platform when compared to other plastic catamarans of a similar size.
This system also provides the added bonus of allowing the boats to be disassembled far quicker than other similarly sized catamarans, for storage and transportation purposes. It also means that all of the mechanisms required for joining the hulls are externally mounted, with no access to the inside of the hulls required.
RS Cat14

The RS Cat14 comes in 3 models:

Club (Reef-able Mainsail only)
S (Reef-able Mainsail, Jib and trapeze)
XL (Reef-able Mainsail, Jib and
Asymmetric Spinnaker / Gennaker and Trapeze).

Specifications:

Beam (width): 1.14m
Length: 4.25m
Crew: 1-3
Trapeze: Yes (Single)
Mainsail sail area:8.1m2
Jin sail area: 2.1m2
Gennaker sail area: 9.0m2
Total sail area: 19.2m2
Total sailing weight: 125Kg

A fixed mast-head flotation device comes as standard on all models

RS Cat16

The RS Cat16comes in 3 models:

Club (Reef-able Mainsail only)
S (Reef-able Mainsail, Jib and single trapeze)
XL (Reef-able Mainsail, Jib, Asymmetric Spinnaker / Gennaker and single trapeze).

Specifications:

Beam (width): 2.35m
Length: 4.7m
Crew: 1-5
Trapeze: Yes (Single) with optional twin-trapeze
Mainsail sail area: 9.98m2
Jin sail area: 2.35m2
Gennaker sail area: 12.82m2
Total sail area: 25.15m2
Total sailing weight: 140Kg

A fixed mast-head flotation device comes as standard on all models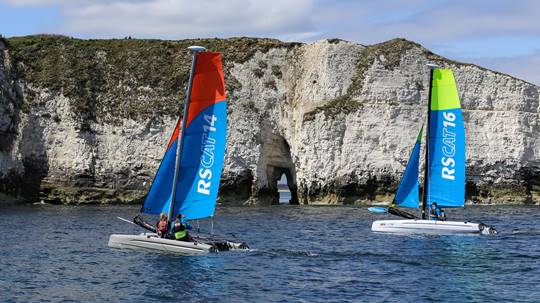 If you have any questions regarding the contents of this email or if you wish to discuss your needs or those of your organisation in greater detail, please contact dan@rssailing.com