The long standing and original sponsor of the BVI Spring Regatta has come forth to help keep the regatta running steady. Mount Gay Rum Distilleries Limited, distributed by Road Town Wholesale, has stood by the Spring Regatta for 47 years. And this year is no exception to their support.
The Official Rum and Gold sponsor of the 2018 BVI Spring Regatta and Sailing Festival will be served to all who come to race, to party, and to enjoy the British Virgin Islands.
"We are so pleased to be sponsoring again one of the largest events and the first in the long recovery of the British Virgin Islands," said Pascale Sold, Caribbean Area Manager for Mount Gay rum.
"We support a lot of regattas in the Caribbean and the world, but the BVI Spring Regatta has been one of the longest running. Our brand has become synonymous with this regatta. Over the years we like to bring our new products to the event, whether as a tasting of our crafted aged rums or creating different drinks for all the sailors, friends, family and guests at the Regatta Village to enjoy."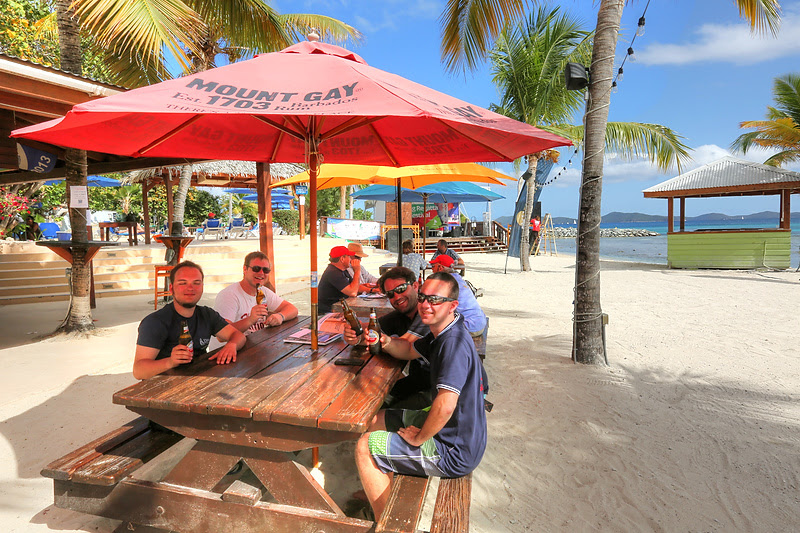 Sailors Relaxing at the beach bar with a couple rum drinks
"This year we are so pleased to have Mount Gay Rum Distilleries Limited continue their support. It will help bring necessary funds into the territory with sailors chartering boats, people bringing their own, using taxis, renting places and of course provisioning with bottles of Mount Gay rums! All these funds go back into the community and help the people who live here rebuild their homes and their lives," said Judy Petz, Regatta Director.
Mount Gay understands sailors and created the famous red hat which has become a prized possession by racers around the globe. It's always interesting to hear the stories of the collections for many years of the event and each one brings with it another wonderful memory of sailing in the BVI and drinking Mount Gay rum.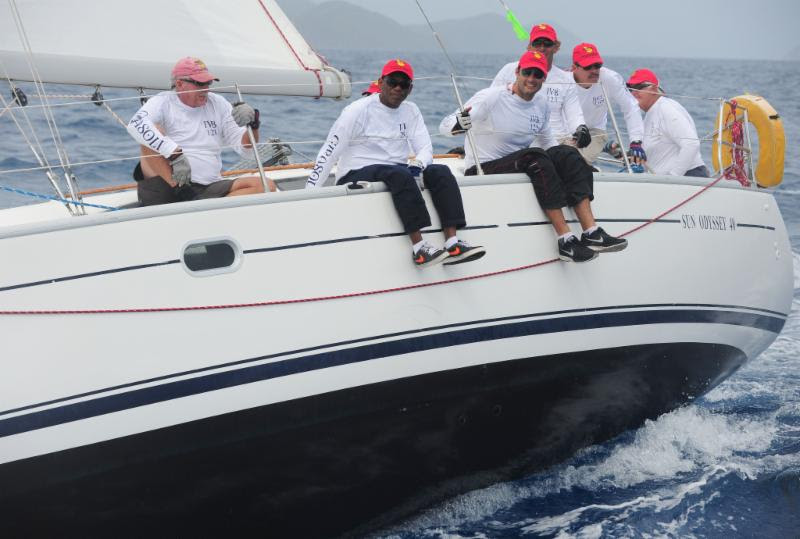 The Regatta is also celebrating being 10 years a Green and Clean event. The issue of sustainability is now more important than ever. Mount Gay Distilleries Limited (MGDL) is dedicated to be a 'clean and green' organization. Within recent years, several efforts have been made to ensure the continued sustainable development of Barbados and the wider Caribbean region. These socially responsible approaches include but are not limited to the reduction of greenhouse gas emissions through cleaner fuels in their boilers, the purchase of electric vehicles, a company-wide ban on Styrofoam and the reduction of plastic use, water reduction practices and a recycling partnership with other local organisations. Additionally, MGDL initiated an agricultural program with the Barbados Community College and a drink responsibly campaign.
"Come join in the fun at the new Regatta Village with Mount Gay rum drink specials each night. The favorite Black and Gold Party, featuring Mount Gay 's finest rums and the opening Welcome party on Thursday night is going to be really special", announced Dawn Callwood, RTW Marketing Manager. "Each year we create new and exciting cocktails and drinks with our rums, featuring Mount Gay Black Barrel, Mount Gay XO, and showcasing our limited annual release of 12000 bottles of 1703 Master Select Rum. It will be TIME WELL SPENT ! Drink responsibly." she added.