Registration started early at the 43rd St Maarten Heineken Regatta, as eager teams lined up to formally register their entry and pick up their yacht's bow numbers and class flag. With over 100 yachts entered, representatives from all over the world were made welcome, picking up an array of goodies from sponsors including caps from Oris, liquid refreshments from Fiji and, of course, cans from title sponsor Heineken. 
This year's boats and crew represent more than 25 countries, with many having interesting stories about getting to the Regatta. For Guy Chester on trimaran Oceans Tribute, his journey started in May 2022 when he sailed single-handed from New Zealand, past Australia and South Africa before heading across the Atlantic. Clocking up some 16,500 nautical miles, Guy picked up his additional crew members to take part in the Caribbean regatta circuit before heading to St. Maarten. Equally impressive in terms of distance traveled was the journey made by J133 Bella J, which sailed nearly 3,000 nm from Halifax in Canada to the Caribbean. 
Others chose an easier way to arrive, with yachts including Cape 31 Flying Jenny from the USA transported direct from its home base in the USA into the Port of St. Maarten, also a Regatta sponsor. One of the most unusual means of arriving was demonstrated by the team from GFA Caraibes, who literally hitched a ride from Martinique. The Surprise Archambault 24 was towed to the event by its mothership, a Lagoon 38 catamaran.  
For the team from La Morrigane, the yachting association of Martinique, the 42-hour journey was the culmination of many months of preparation and cooperation. Skipper Tristan Marmousez said, "It was nice to arrive refreshed and ready to race. It was very light winds and there was a lot of seaweed, so we were grateful for the tow."
The upcoming weather for the regatta was a hot topic amongst both the competitors and race management team. Studying the forecast for the next few days, PRO Mark Townsend says while the regatta will start with light winds of around 8-10 knots, it is anticipated to build each day.  There will be two race start and finish areas; one designated Simpson Bay and the other Cole Bay.  
The courses will range day by day from distance races to St Barths and back for the VO70s and VO65, with other classes doing round the buoys windward-leeward races.  "We'll be mixing it up over the four days, and everyone will get a good variety of different courses," says Mark, as he set off to brief his 40-strong team of race course volunteers. The big looming decision will be whether the famous Round Island Race will take place on Friday or Saturday, and a decision will be made depending on the wind forecast.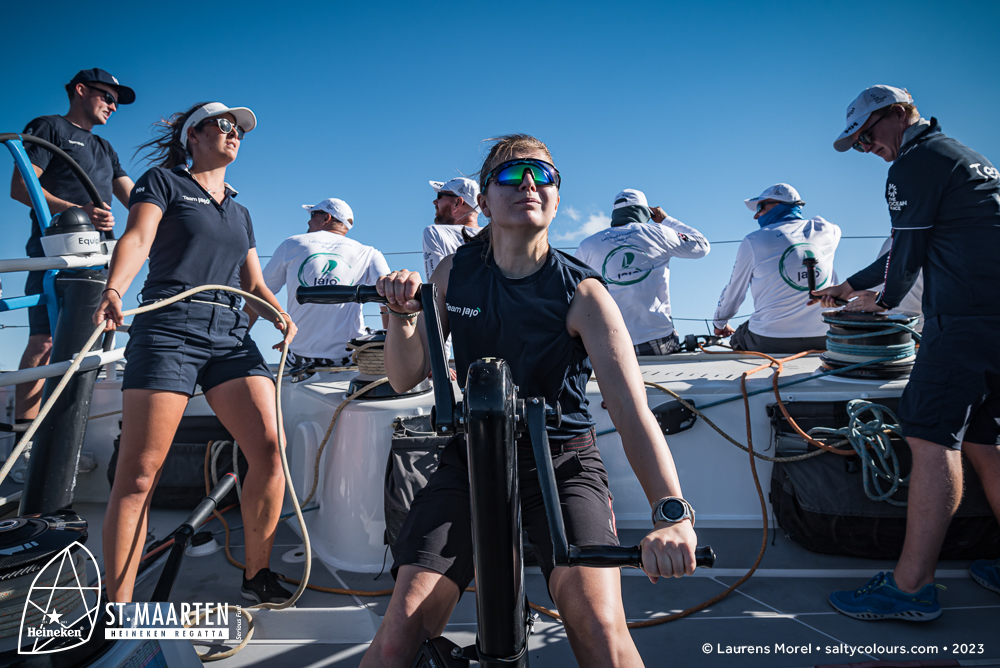 Once registered, many boats ventured out to sea for some practice before the serious racing and serious fun begins. On VO 65 JAJO, today was a chance for the 14-strong crew to get to know each other, as half the crew are from the Ocean Race professional team, and the other half are guests and representatives of sponsor JAJO. Skipper Jelmer Van Beek says, "It's a good combination of crew training for the Ocean Race and also the chance to give something back to our sponsor JAJO. This is what the St. Maarten Heineken Regatta is all about." 
For the mixed nationality crew on board VO70 HYPR, the last three days of practising have given skipper Jens Lindner the chance to get to know the strengths and skills of his crew. "We have five professional team members on board and the rest are paying guests," he says. "We've been working together to understand everyone's abilities so they are put into the optimum position onboard, supported by the professional crew."  With fierce competition expected amongst the VO70s, this will be a fleet to watch. 
Now with their crews gathered, participants are concentrating on the 'Serious Fun!' to be had both on and off the water. The Regatta Village at Port de Plaisance is hosting a collection of local flavours and talent, with free entry for all Thursday-Saturday starting at 3 PM. Sailors and regatta fans are already gathering around the sustainably-built bar, enjoying cold Heineken, sparkling Veuve Clicquot, cocktails from Tito's Vodka or refreshing Fiji water. The regatta registration process, taking place in the reception area at the Port de Plaisance today, benefitted from super-fast wifi organized by local provider Flow, which will be open and free to all sailors throughout the event. 
There are plenty of shopping opportunities at the Regatta Village, with local vendors and pop up shops from Oris watches and Island 92. Regatta gear and CSA Racing Circuit shirts, supported by Seahawk Paints, are available from Shipwreck Shops and Sint Maarten Yacht Club. It's even easier to enjoy seamless Regatta Village amenities with convenient tap payment systems provided by Windward Islands Bank. 
Each day will see the prize giving taking place at 6 PM with local artists rocking the Regatta Village stage through the evening until it's time for the after-party! This year, once again, there is a selection of top venues from across the island hosting the "Green Zone" parties. These include a day party to watch the race at the literal top-of-the-island venue Elev8 to Lotus Nightclub, Soggy Dollar Bar, Moonbar and Bikini Beach by night. 
On Sunday night, Grammy award winning artist Koffee graces the big stage at the Regatta Village, and toasts the finale of the 43rd St. Maarten Heineken Regatta. For more information and to buy tickets, visit heinekenregatta.com/schedule/ or purchase locally at Divico, Vandorp, Levi's Marigot & Adolphus Richardson.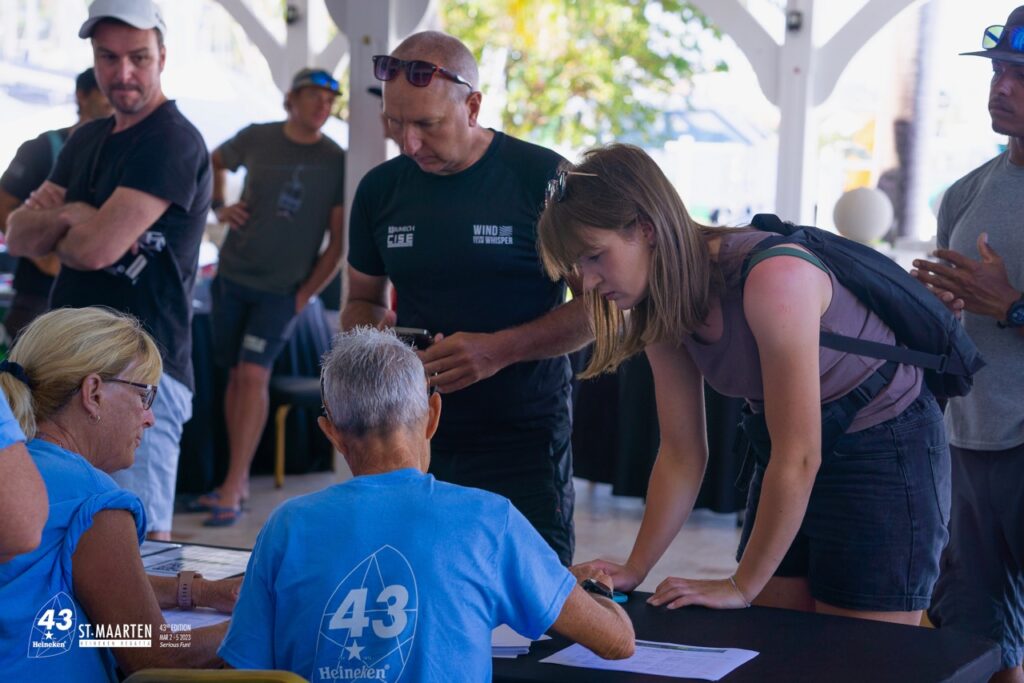 ############
St. Maarten Heineken Regatta
Celebrating 43 years, this Regatta just keeps getting better, four days of world-class racing with some of the world's most seasoned sailors, hailing from over 35 countries. This is genuinely a Regatta for everyone, including professional teams sailing Maxis, Monohulls, and Performance Multihulls to holiday-makers on chartered Bareboats to live-aboard families cruising the Caribbean. Crystal clear waters and cooling northeast trade winds give the pristine conditions for spectacular racing just off the coast of St. Maarten. This event is your bucket list must-do! Come and enjoy life in the Caribbean; come for some Serious Fun from March 2-5, 2023!
For complete information on the St. Maarten Heineken Regatta, including results, photos, videos, party and band information, and much, much more, visit: www.heinekenregatta.com.
The post Over 100 Boats Gather from Around the World for the 43rd St. Maarten Heineken Regatta appeared first on Heineken.