14th Annual Edition November 9 & 10
The 14th Annual Sol St. Maarten Optimist Championship 2019 is now open for registration! Racing takes place on November 9 & 10!
Boats are available for rent. Fee of Opti hulls will be $50 for both Saturday and Sunday. Please contact Leonde for information one boats availability before registering: Email leonde@smyc.com
There will be 3 hulls for the following countries: Curacao, St. Kitts, Antigua, Saint Thomas, and the BVI taking into account that Saint Martin, St Barth and Anguilla are bringing their own hulls. More participants per country can enter on a first come first serve basis.
Please click the link for NOR and Registration information https://www.smyc.com/sol-optimist-championship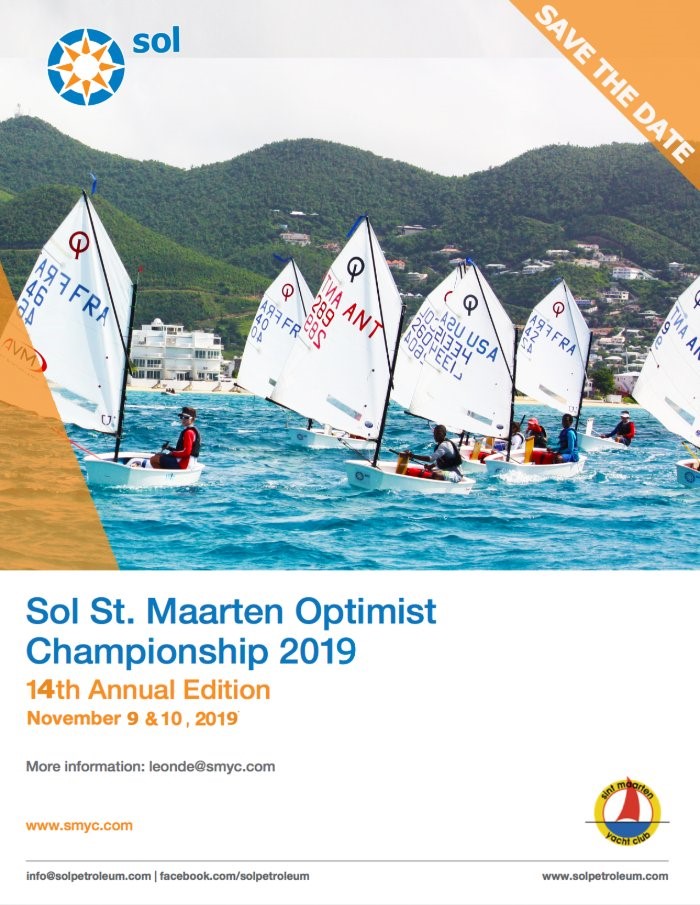 Off-island participants will need to bring their own sails, spars, bailers and foils. Sailors arriving Friday can go on a practice sail on one of our club boats at no charge pending timing and availability (contact me for details).
Entry fee includes lunch on Saturday and Sunday, a potluck on Saturday after racing, Domino's Pizza on Sunday after racing, drinks and snacks both days.
Reach out to Leonde the event manager for any further information.