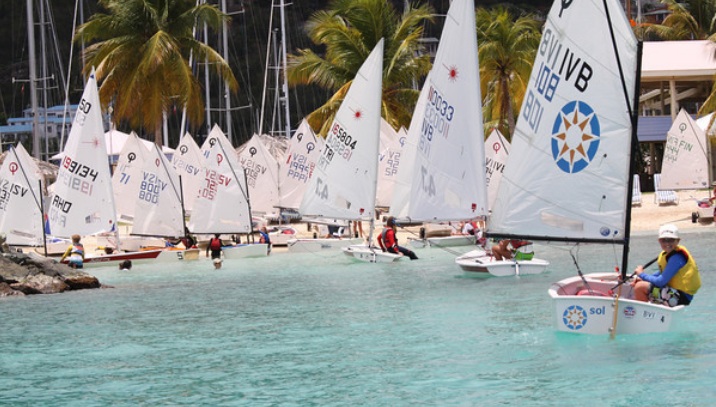 Regatta Wrap-Up: This past weekend, the 5th and 6th of May, was held the BVI Dinghy Championships hosted by the Royal BVI Yacht  Club based out of Nanny Cay Marina, Tortola BVI.   This year showed a resurgence of interest and participation by sailors outside of the Virgin Islands, bringing a true Caribbean international mix to compete here in the BVI.   Participants from Trinidad, St. Lucia, Antigua, St. Marten, St. Croix, St.Thomas and St. John came to race against our BVI Sailors in the Drake Channel.    The total count of participants was 54 boats and 58 sailors.
Winds were light and shifty, making for very challenging sailing conditions under overcast skies with repeated rain showers – nonetheless our race committee chaired by Bob Phillips  was able to get off 11 races for most fleets , 7 for the advanced Opti fleet, over two days of racing.  The final results showed a very tight level of competition with multiple ties including a 3 way tie for Laser 4.7 first place – when sailboats end up tied for overall score, the winner is determined by whomever scored more first place finishes.  Both days the participants came into the beach to enjoy packed lunches prepared by member famliy Tyler Dawson and Juila Lambert – who own Family Food and Bakery just being built on Wickham Cay 2.       Very nice long sleeve Suntec* regatta shirts and goody bags stuffed with swag were donated by HIho*, Arawak* and the BVI Tourist Board which all the sailors enjoyed.  Beautiful awards in the shape of the sail for each class were provided by Charterport and Charter Yacht Society BVI , with shipping covered by Tortola Express, Liat comped the cost of extra baggage for sailors that needed to bring equipment from the other islands,  and all this put together by the members of the Royal BVI Yacht club  – thank you all so much!  On Saturday night we had all our guest competitors, families and many local members as well down to the Yacht Club for a special diner  catered by Tyler Dawson and Julia Lambert who have recently opened Family Food and Bakery at Wickham Cay 2.  This event was attended by over 100 folks and raised funds for the youth sailing program and was a great time for all too!
The final results of the regatta showed the strong coaching skills of our new coach, Omari Scott, who has been with us at the yacht club for 6 months now and has really improved the performance of many of our sailors.   In the beginner fleet for Optimist Dinghy, the winner was Skye Erhart from St. John followed by Jowan James of Tortola, and Sean Hughes of St. Thomas in thrid.  This is the fleet where sailors learn the basics of racing, get their confidence up and prepared for moving on to the advanced race fleets. 15 sailors participated in this class.   This year we also hosted a mixed dinghy class consisting of Laser 2000, Wayfarer, Pico and Bug class sailboats which was won by BVI sailor Abby Maddox.    The Laser Class sailboat is an Olympic Fleet boat and very challenging to sail. We had only two 'Standard Rig' sailors, also the only two adults sailing (where are you others!)  which was won by Mark Van Den  Driesche from St. Thomas.  Laser Radial and Laser 4.7 are classes of primarily juniors and they have progressively smaller sails to make them manageable for smaller sailors. The Radial Class was won by St. Lucian Marcus Sweeny, followed by Rhone Findlay from St. Martin and in third Hosea Williams of Anitgua.   There was only a three point spread from first to third after all races were run!   The Laser 4.7 class is the smallest rig for sailors just coming out of the Optimist dinghy and moving into Laser. This class showed perhaps the tightest level of competition with the final result a 3 way tie which was sorted out by allocating First Place to BVI Sailor Mollee Donovan with four first place finishes out of her total, followed by BVI Sailor Matthew Oliver with 3 firsts, and in third Kelly-Ann Arrindell from Trinidad with two firsts.   The largest fleet of the regatta this year was the Optimist Dinghy. The 'Opti' for short, is the premier class for training youth sailors the world around; providing an excellent stable platform for the very beginners and moving right through to serving as the elite class of racing boat for sailors up to 15 years old.   The BVI Dinghy Champs also served as the qualifier for the BVI Team that will represent our country this year at the Optimist Worlds meet in Dominican Republic this summer.    Of the 21 boats racing in the Opti Advanced fleet  they are scored collectively and additionally in age division fleets.  The youngest fleet, White, is for sailors 10 years old and under – this was won by BVI Sailor Rayne Duff, followed by BVI Sailor Thad Lettsome and in third was Nathan Smith from St. Martin.   The Blue Fleet, for sailors 11-12, was won by Teddy Nicolosi from St. Thomas, followed by Rocco Falcone from Antigua and then Chris Sharpless of St. Thomas in Third.   The Red Fleet for sailors 13-15 years old, was won by BVI Sailor  Sam Morrell, in second from St. John was Paige Clark, and Jason Putley of BVI took Third.     As mentioned this regatta is the qualifer for Opti Worlds and the top 5 Optimist sailors from BVI have qualified and they are  Sam Morrel (1st overall), Jason Putley (3rd Overall), Rayne Duff (4th Overall), Thad Lettsome (7th overall) and Sam Childs (12th overall) –  Sam Childs also won the Sportsmanship Award this year for showing good spirit, and helping his competitors to ensure they knew the course and starts.
The dates have been set for next year at May 4th and 5th, and all the sailors had better practice hard for even hotter competition to come.
Check out the fantastic photos for the entire event here.
Save