Simpson Bay, St. Maarten – October 30th, 2022.
---
Eight competitors showed up at the starting line last Sunday, for the first race of the Grant Thornton Keelboat Season Championship. 6 Boats sailed in the CSA 1 class and 2 Diam 24's sailed in the CSA Multihull class. All races were organized by our youngest race committee ever.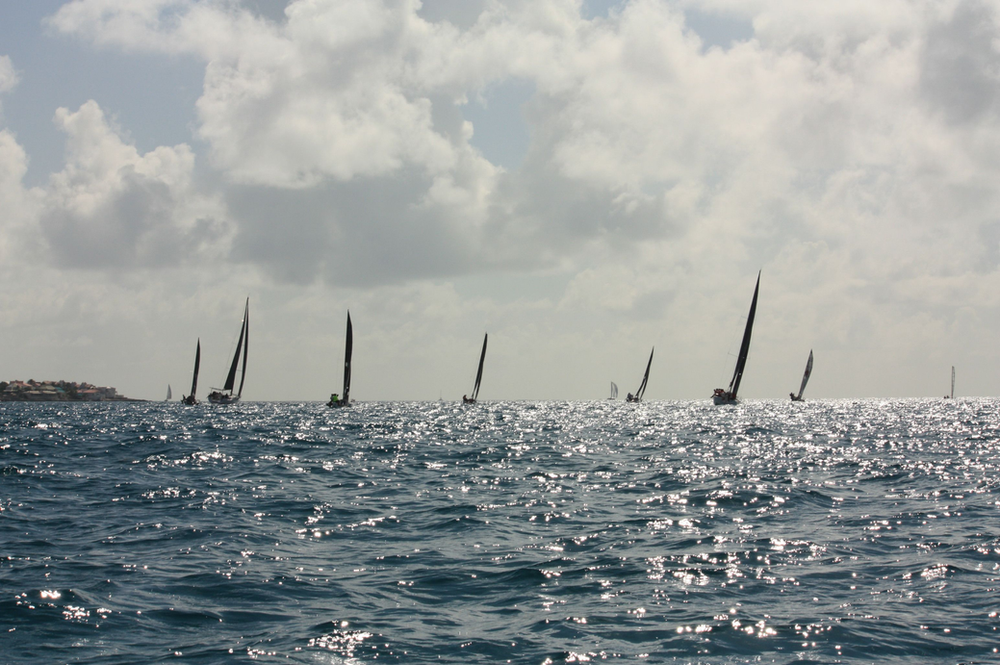 picture can be found here
Melges 24 team FKG had a rough start of the day with two sixth places but improved in the last race by finishing fourth, ending up 6th overall in the CSA 1 class. Team Island Water World 2 came in 5th place just behind Team Caraibes Diesel/CVFB in 4th place. Franny and newcomer Team Budget Marine ended up in a tie for 2nd place, but because Team Budget Marine scored two bullets in the first two races of the day they ended up taking 2nd place overall, with Franny in 3rd. Winner of the day was Team Island Water World, which was a really impressive performance considering helm Frits Bus sailed with one hand because of an broken shoulder.
Our newcomer in the Melges 24 Team Budget Marine had a stellar day, winning the first 2 races and only losing the day because of a small error in the last race. "It was nice to see 6 boats battling closely today. Especially the five Melges 24's, I saw some very exciting starts, mark rounding's and finishes today." Said Xanthe Kerssemakers, Race Officer.
In the CSA Multihull class only 2 teams got their boats and crew ready for the first race of the season. The Race Committee started two races at Simpson Bay, going around the cable marker at Great bay and finishing back in Simpson bay. Cry Baby won with finishing 1st in both races, followed by Merlin in 2nd place.
All of Sundays racing was made possible by our youngest race committee to date. Lead by Xanthe Kerssemakers (19), Filippa Vriezen (15), Francener Faustin (15) and Windy Celine (23).
Results can be found on smyc.com/keelboat-series
In a few weeks, the Sint Maarten Yacht Club is hosting the annual "Course de Alliance" which is a 3 day event racing from Sint Maarten to Saint Barth on day 1, Going from Saint Barth to Anguilla on day 2 and returning back to Sint Maarten on day 3. The "Course de Alliance" is on the 2nd, 3rd, and 4th of December.
All information can be found on https://www.smyc.com/coursedelalliance
Sint Maarten Yacht Club
The club was established in 1980 with the goal to promote sailing on the island of St. Maarten. The Sint Maarten Yacht Club organizes multiple sailing events throughout the year, with the St. Maarten Heineken Regatta as its crown jewel. A youth sailing program stimulates local youngsters to become part of the sailing community, teaching them life skills like teamwork, perseverance and confidence. Always looking to further develop sailing on St. Maarten, the Club is active in promoting the sport, as well as the beautiful Caribbean island destination of St. Maarten. For more information visit www.smyc.com