Simpson Bay, St. Maarten – April 22, 2022
On April 10th, the Sint Maarten Yacht Club hosted their annual fund raiser for their Youth Sailing Program with a raffle and silent auction. New this year was the Silent Auction, where everyone was able to place a bid on a selection of exclusive products, prizes or stays!
Over 175 companies on Sint Maarten participated in donating products or services for the raffle and Silent Auction, greatly adding to this successful figure that was raised. Although not having to be present, many still attended the night of the raffle, also to still place bids in the Silent Auction. Jewelry, boat trips, gift vouchers, massages, restaurant vouchers, hotel stays and much more products were handed out to the winners.
"The vibe at the Sint Maarten Yacht Club was great during the event, the audience was mixed in young and old, sailors and non-sailors. I'm very proud of the team for putting this event together, especially as this was the first edition of our Silent Auction. We have learned a lot and are excited to come back next year with a bigger and even better format!" Quotes Nancy Burzon, head of the Social Committee that oversees this event.
What is important to note is that all the funds are going to the Youth Sailing Program of the Sint Maarten Yacht Club. The Sailing School is offering after school sailing classes to 75 children on a weekly basis.
Sailing is known to enhance life skills, providing self-esteem, social skills and hands-on skill-based confidence. In addition, it creates a more motivated and focused attitude, a positive awareness of the outdoors and offers a platform to make new friendships. However, the sport is often considered as elite, which is why the Sint Maarten Yacht Club puts the effort into introducing as many local children as possible to this fantastic sport. Therefore, on Thursdays and Fridays during school hours, the Sailing School organizes the Primary School Sailing Program. Each year, children get to enjoy free sailing classes every week, for the duration of the full school year, children are selected from two primary schools on the island, which allows 24 kids to be introduced to sailing each year.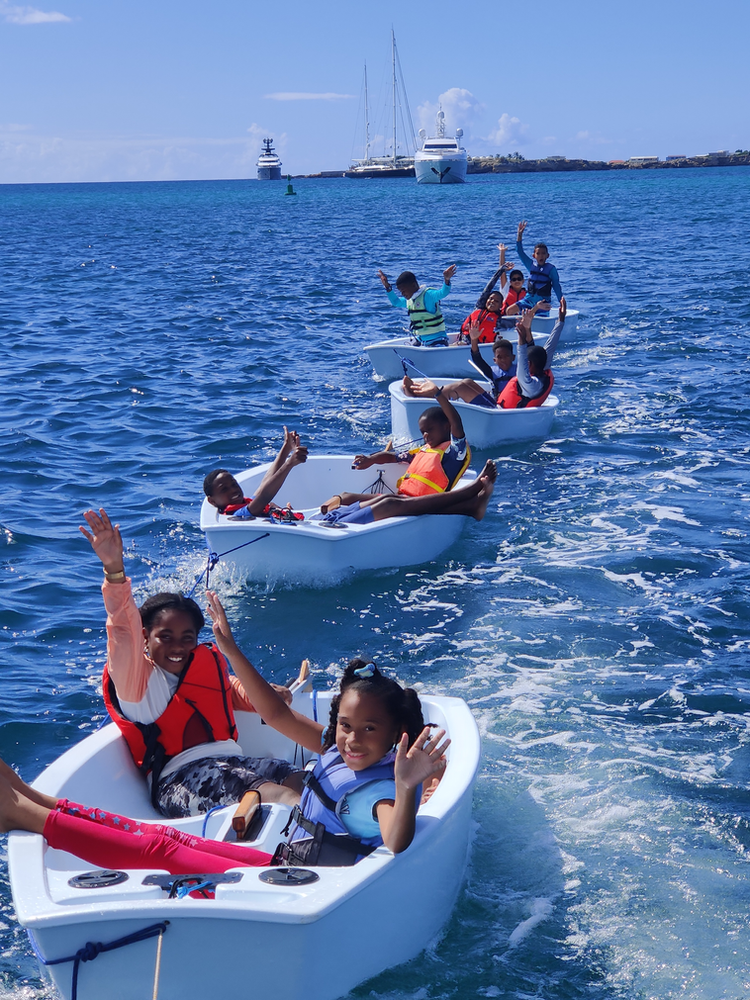 "Even though we keep our rates in line with other sports on the island to make it accessible to all, it remains necessary to support children whose parents don't have the means to enroll them in sports. Through fundraising events such as the raffle, combined with donations and sponsorships year-round, we manage to give underprivileged children the opportunity to join our After School Sailing Program as well as extra activities like Fun Sails and our annual Sailing Summer Camp, making sailing available for as many kids as possible. Last year we have also started a Swim 2 Sail program, as part of the Primary School Program as the instructors noticed that some children are not able to swim yet, a skill required to start sailing. Together with a certified swim teacher we make sure that the children get their swimming diploma and then can join the Sailing Program in a safe way.
The funds raised through the raffle and silent auction allow us to enroll new children in our sailing program and keeps our Primary School Program running for another season. All the support makes us feel very thankful". Said Saskia Revelman, Sailing School Manager at the Sint Maarten Yacht Club.
Would you like to get more information on how you can support the Sint Maarten youth in developing their sailing skills, contact saskia@smyc.com.
Sint Maarten Yacht Club
The club was established in 1980 with the goal to promote sailing on the island of St. Maarten. The Sint Maarten Yacht Club organizes multiple sailing events throughout the year, with the St. Maarten Heineken Regatta as its crown jewel. A youth sailing program stimulates local youngsters to become part of the sailing community, teaching them life skills like teamwork, perseverance and confidence. Always looking to further develop sailing on St. Maarten, the Club is active in promoting the sport, as well as the beautiful Caribbean island destination of St. Maarten. For more information visit www.smyc.com