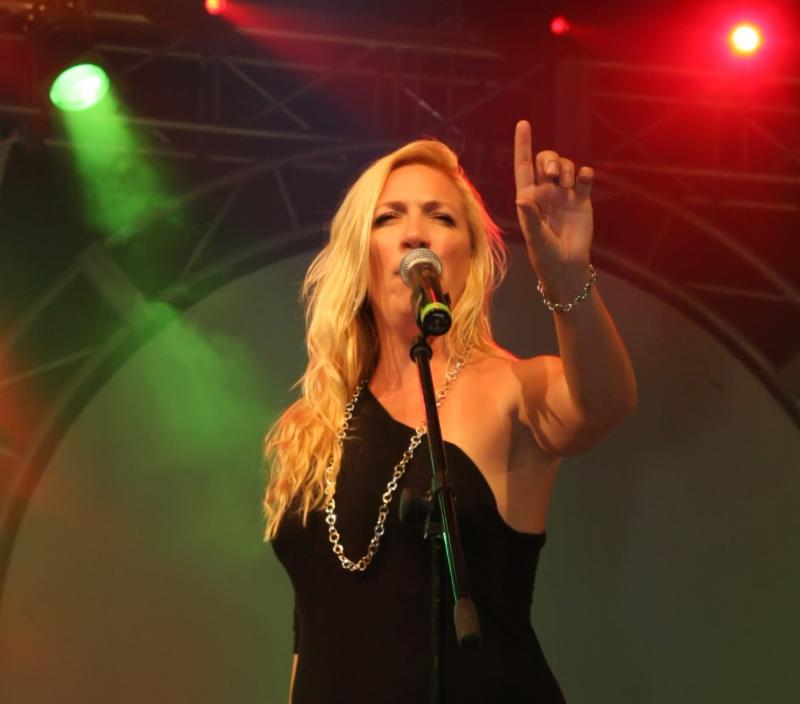 Simpsonbay, St. Maarten – February 20th, 2014 – The 34th edition of the Caribbean's biggest Regatta will feature 3 days of Serious Sailing and 4 St. Maarten Heineken Regatta nights. The festivities will start on Thursday March 6 with the 'Dance Fever' party where Christine Gordon will take to the main stage on opening night at the 'Princess Port de Plaisance' and keep the crowds dancing non-stop.  Joined by her band "The OverSoul", Christine will host the evening and give everyone a lesson in the history of the groove. Your Thursday night has never looked this good!
The St Maarten Heineken Regatta evening festivities will continue on Friday March 7th with 'Rock and Reggae', Saturday March 8th for 'Caribbean Jam' night and the event ends in a 'Legendary Party' on 'Kim Sha Beach' Sunday March 9!
Christine Gordon is no stranger to the St.Maarten Heineken Regatta stage, and her infectious vibe is known throughout the 37 square miles of tropical paradise.   This powerful singer describes herself, however, as a 'Daughter of Disco," having started her career in New York City learning from, being produced by, and even co-writing with the "best of the best:" Legendary guitarist and Super Producer Nile Rodgers (CHIC, Daft Punk, Madonna), Reggie Griffin (Chaka Khan, Toni Braxton, Babyface), David Lasley (Anita Baker, Whitney Houston), and Ray Chew (American Idol).
She is affectionately referred to as the "Lioness" who rules the stage  With a larger than life stage presence and "sweet as honey" vocals, Christine Gordon has spent much of the past decade living, producing, performing  and travelling throughout the Caribbean and Europe.  Having spent so much time in the region it's no wonder Christine considers both St. Martin and St. Barths to be her 'home away from home.'  

When asked what it meant to her to once again be onstage at the 2014 St.Maarten Heineken Regatta Christine declared " Coming back to St. Maarten always feels like 'coming home' to me. I actually first came to St. Maarten to join Patou and Youth Waves on the Regatta Stage from Marina Del Rey, California, which is where I live when I am not in the Caribbean.  My relationship with sweet St. Maarten, therefore, literally began with a St. Maarten Regatta performance.  Since then, St. Maarten Heineken Regatta week has been something I look forward to the way kids look forward to Christmas!  When I was contacted about hosting this incredible night of 'Dance Fever', my heart skipped a beat, because I absolutely LOVE Dance Music….
Although I've been singing all of these dance songs for decades now, I didn't really realized until quite recently that, with the runaway success of my own Dance Singles "Soak It In" "Dance Around The World" and "Take Me There" …in fact, my voice is really kind-of "made" for this kind of music.  It took going to France, where I recorded with some DJ's and serious remixers who all really made it a point to let me know I needed to 'reconsider' my genre (I've always considered myself to be a "Pop/R&B/Neo-ClassicSoul artist," when pushed to define my sound.  

This has been my favourite year ever, musically speaking!  Current radio hits have that 'familiar' feeling…they take us back to the "Good Times" …they make us all wanna get up and dance!"
Christine promises to put together a one of a kind show, while introducing the audience to some of her much-loved musicians and artists from both the Caribbean and California. Her ultimate dance party promises to "Rock us til we Drop".  Christine revealed "What makes this time around for me so incredibly different is that I will bring my own backing band, coming from Los Angeles, to perform with me on the Regatta stage with me for the very first time!  My, band, The Oversoul is: Punky Balfour, musical director/drums Cole DiGenova, keys /vocals, Greg Karaganis,guitar/vocals and Josh McClanahan.  I'm ultra excited to be sharing the stage with them and some 'SuperDivas:" LinZee Nicole, Myra Washington, Kiki Kyte
and St Martin' very own songstress, Moana Avvenenti, (who recently moved to LA to continue her career as a professional singer).
To say I'm excited would be a huge understatement. The Oversoul is a band of genius young guns, each of them is a star in their own right.  The band is ultra excited to be making their first Regatta experience, and to be visiting beautiful St. Maarten.Of course, I never stop talking about St. Maarten, and how I feel so truly connected to the people here. They can't wait to experience it all first-hand for themselves! "
So put on your dancing shoes, grab your ice cold Heineken and prepare to enjoy a night of 'Dance Fever' during the 34th St.Maarten Heineken Regatta
St.Maarten Heineken Regatta
For over three decades, the St. Maarten Heineken Regatta has showcased the top boats and sailing-and has become equally famous for its world-class slate of parties and musical entertainment-in the Caribbean. Now recognized by sailors around the planet as one of the sailing world's best regattas, each year the event lives up to its worthy motto: Serious Fun.
For full information on the St. Maarten Heineken Regatta, including results, photos, videos, party and band information, and much, much more, visit www.heinekenregatta.com.
Save