Ten boats lined up on Saturday for the 2021 edition of the Nanny Cay Round Tortola Race. 12 to 15 knots of breeze, sunshine and the odd shower to cool things down made for perfect sailing conditions!
Beating up the channel the fleet turned left at Beef Island, took the inside line to leave Scrub, Great Camanoe and Guana Island to starboard, enjoyed glamour downwind conditions along the North Shore and returned back upwind to finish off Nanny Cay. The cruising fleet were first away at 09:05 with Laurens Blok's Sequitur getting the best start (although Dr Tattersall rightly maintains that 2 seconds off the line is late!). The five trimarans set off an hour later at 10:05.
Line honours went to the largest of the tris, Mark Sanders' Island Hops, completing their circumnavigation in 3 hours 49 minutes and 56 seconds. Just under 7 minutes later Chris Haycraft brought Ting a Ling across the line which was enough to give him the overall win and his name on the trophy. Racing with Chris on Ting a Ling were Mike Hirst, Mark Stephenson and Stuart Graves.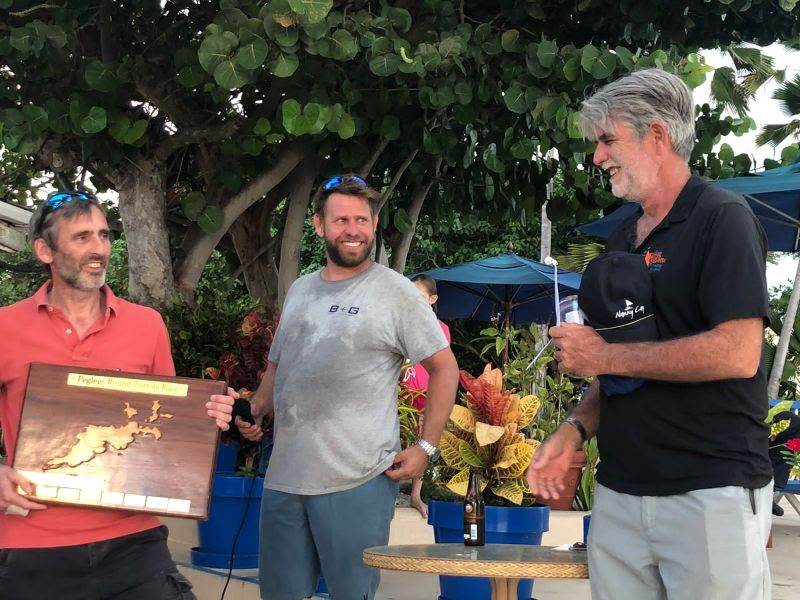 Barney Crook with Airgasm came in third, fourth was The Flying Pig helmed by Gilbo Simpson and Gerard Kraakman's Whoop Whoop, who took the long way around, came in fifth.
Four of the five boats in the earlier start completed the race but Kanga, skippered by Michael Ryan retired – the Soper's Hole based boat did complete their own circumnavigation but we can't give them a time!. First home was IC24 Racing in Paradise helmed by Aaron Gardner with Will Rand, Julia Campbell and RBVIYC youth race team member Savion James on board. With an elapsed time of five hours, 32 minutes and 42 seconds it was a waiting game to see if that was enough against the slower boats behind them.
Next to finish were the Yacht Club's ladies sailing class team. Fresh from their dinghy lessons, a Beneteau 45 was a significantly different challenge but one they definitely rose to! Skippered by Meagan Woodman, every student took a turn at the helm and developed some slick teamwork through the course of the day under the guidance of their coaches. Second overall went to Ted Reshitloff's Happiness and his Team B+G crew and Laurens Blok's Sequitur taking third overall.
Thank you to Nanny Cay for sponsoring the event and hosting the prize giving, Todd Patterson for running the race committee and all the sailors who turned out.
Results
Corsair Trimarans
1. Ting a Ling – Chris Haycraft
2. Island Hops – Mark Sanders
3. Airgasm – Barney Crook
4. The Flying Pig – Gilbo Simpson
5. Whoop Whoop – Gerard Kraakman
Cruising
1. RIP – Aaron Gardner
2. Happiness – Ted Reshetiloff
3. Sequitur – Robin Tattersall
4. Ladies Sailing – Meagan Woodman
5. Kanga – Michael Ryan (RTD)