St. Thomas, US Virgin Islands. Yacht racing is all about precision timing and for nearly a half-century, the St. Thomas International Regatta (STIR), set for March 25-27, has been synonymous with awarding prized timepieces to its class winners. Therefore, regatta organizers are pleased to announce that the official watch of STIR 2022 will be the Pirate Island Watch by Cardow Jewelers.
"Cardow Jewelers, the flagship jeweler of the Virgin Islands, is once again proud to support the STIR 2022," says Carolina de Lyrot, marketing manager for the celebrated seven-decade Virgin Islands landmark retailer, known as a trusted source of gold and diamonds in the Caribbean.
The Limited Edition Pirate Island Watch, designed in the U.S. Virgin Islands, features a black casing and a black metal band with hints of yellow on the dials, date, hands, and signature chronographs of St. Thomas, St. Croix, and St. John. Made totally of stainless steel, the watch features Japanese movement and is water-resistant to a depth of about 170 feet.
Cardow Jewelers has three locations on St. Thomas: #1 Main Street in Charlotte Amalie, the Crown Bay Center, and Cyril E. King Airport.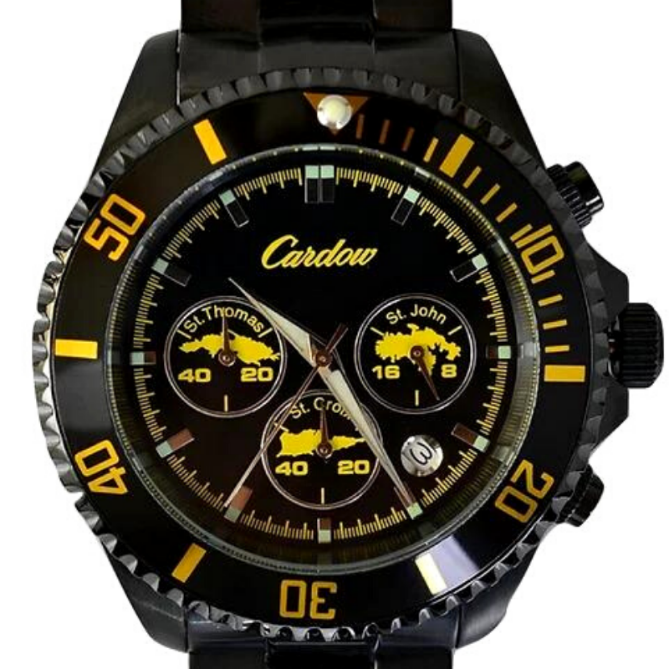 "We are pleased to welcome Cardow Jewelers back as a sponsor for STIR 2022 and appreciate their long-standing support of our regatta. Thanks to Cardow's sponsorship, we can say that STIR is the only regatta in the world to offer this signature Pirate Island Watch as a prize. When our class winners put this timepiece on their wrists, they show the world they have won one of the most competitive regattas in the Caribbean – and around the globe," says Pat Bailey, co-director of STIR 2022, with STYC manager, Greer Scholes. "If you haven't entered already, we invite you to do so by Thursday. As we say here at the St. Thomas Yacht Club (STYC), 'We Love It Here' and you will too!'"
Register now for STIR 2022 at yachtscoring.com/emenu.cfm?eID=14738, and the Round the Rocks Race on March 24 at yachtscoring.com/emenu.cfm?eID=14737
Competitive Entries for Round the Rocks & STIR 2022
The one-day warm-up Round the Rocks (RTR) Race, complete with its own prizes, takes its start at 11 a.m. on Thursday. Nearly 20 yachts are currently registered to race. The race features a scenic course in the waters off St. Thomas, St. John, and some of the territory's offshore rocks and cays. Entries include a half dozen IC24s as well as two 52-footers, the Botin 52 Fox, owned by the USA's Victor Wild, and Harmony 52, Sao Jorge, sailed by the UK's Germaine Williams. These yachts, plus Antigua's Bernie Evan-Wong and his team on the Reichel-Pugh 37, TAZ, will compete in the RTR Race as well as STIR in the CSA Spinnaker Racing Class.
"It's exciting to be able to go racing again after a two-year hiatus due to the pandemic," says Evan-Wong, whose team TAZ comes to STIR hot off top 10 class finishes at the RORC Caribbean 600 in February and the St. Maarten Heineken Regatta earlier this month. "It's been tough getting both boats, TAZ and our mothership, ready to race and live on, as both were just completely unused for the two years, and they didn't like that. We're coming with a mixed fun team, from far and wide, old and young, and are going to give it our best shot! I have always enjoyed racing in STIR. It's a lovely area to race in with challenging courses, interesting currents, a great venue, friendly hosts, and great comradeship!"
TAZ is at present one of nearly 50 yachts registered for STIR 2022, with more expected as registration ends on Thursday. The STIR 2022 fleet to date includes vessels up to 65-foot, in CSA Spinnaker, CSA Non-Spinnaker, and One-Design classes, with crews hailing from the Caribbean, USA, and Europe.
This marks the first year STYC members Kevin and Peggy Gregory will race their new Outbound 46, Blue Skies, in STIR. The Gregory's will compete in the CSA Non-Spinnaker Class.
"We raced our previous boat, a Beneteau First 44.7 named Odyssey, in several STIR regattas before it was destroyed in Hurricane Irma. Our new boat, Blue Skies, an Outbound 46, is a 'couples passage maker'. We cruise her around the Virgin Islands in the winter and sail her to Newport, Rhode Island, for summer cruising in New England. This will be our first regatta on Blue Skies."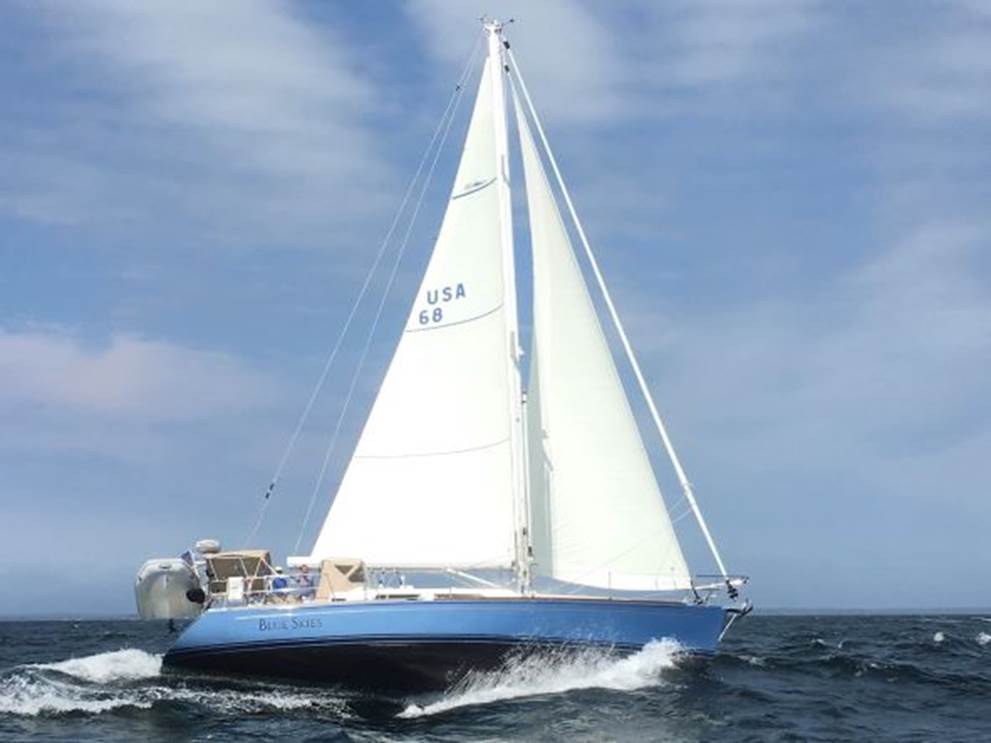 Blue Skies will be up against Chili Pepper, the USVI's Bastian Sarh's Beneteau First 10m, in the CSA Non-Spinnaker Class.
"We sail as a co-ed team, and this year it is split evenly between men and women. We try to get new people involved, so more than half of our crew are new to sailing and looking forward to sailing in their first regatta," says Sarh. "Last year, we had a great time. The regatta is a great opportunity to race against top sailors and teams, something you can't do in any other sport. Plus, sailing in St. Thomas is as good as it gets. Great wind, warm water, friendly people; we wouldn't miss it."
STIR features the largest one-design class of any regatta in the Caribbean with its IC24s. There will be nearly 20 of these modified J24s on the start line for STIR 2022.
"We are fielding a solid team from St. Croix, with some of the best sailors on the island, and are looking to put St Croix back on top," says the USVI's Peter Stanton, who will skipper the IC24, Kate. "We enjoy sailing away from home and exploring the islands. We have been racing in St. Thomas for decades but it's still a good challenge."
There's Still Time to Enter! Register Now!
Register Now! https://yachtscoring.com/emenu.cfm?eID=14738 STIR 2022 invites CSA (Caribbean Sailing Association-handicap rule), racing, cruising and bareboat classes; ORC; Multihull; PHRF, racing, cruising and Jib & Main classes using the 2021 South East Florida PHRF handicap system; Hobie Waves and One-Design classes with a minimum length of 20 feet. Five one-design entries are required for a class. The entry fee is US $340. A limited number of Hobie Waves and IC24s are available for charter. To reserve, contact the St. Thomas Sailing Center (stthomassailingcenter.com/st-thomas-international-regatta) at email: info@stthomassailingcenter.com or call (340) 690-3681.
Also, sign up for the March 24 Round the Rocks (RTR) race (https://yachtscoring.com/emenu.cfm?eID=14737). The U.S. Virgin Islands is fortunate to have many islands, cays, and rocks to sail around. The racecourse will be determined by weather conditions on race day. Entry is US $50 per boat.
Bring your own boat (BYOB) or charter! Chartering especially makes it easy to fly in, jump on a race-ready yacht, and set sail! Over half a dozen outfits are offering vessels to charter either by boat or crew spot for STIR 2022. Visit: stthomasinternationalregatta.com/regatta/charter-companies/
For information, visit www.stthomasinternationalregatta.com, Email: stycisv@gmail.com or Regatta Co-Director Pat Bailey at simpleislandboy51@gmail.com, or call (340) 775-6320. Check STIR out on Facebook (www.facebook.com/stirvi), Twitter @stirvi, and Instagram #STIRVI
Strong Sponsor Support
STIR organizers thank the USVI Department of Tourism; Cardow Jewelers; The Moorings; K3; Bacardi Rum, Michelob ULTRA, Stoli Vodka, and Milagro Tequila, distributed by the West Indies Company; Ocean Surfari; Seas the Day Charters for strong sponsor support.
Media contact:
Carol Bareuther
Tel: (340) 998-3650
Email: bareuther@earthlink.net
Skype: Carol.Bareuther