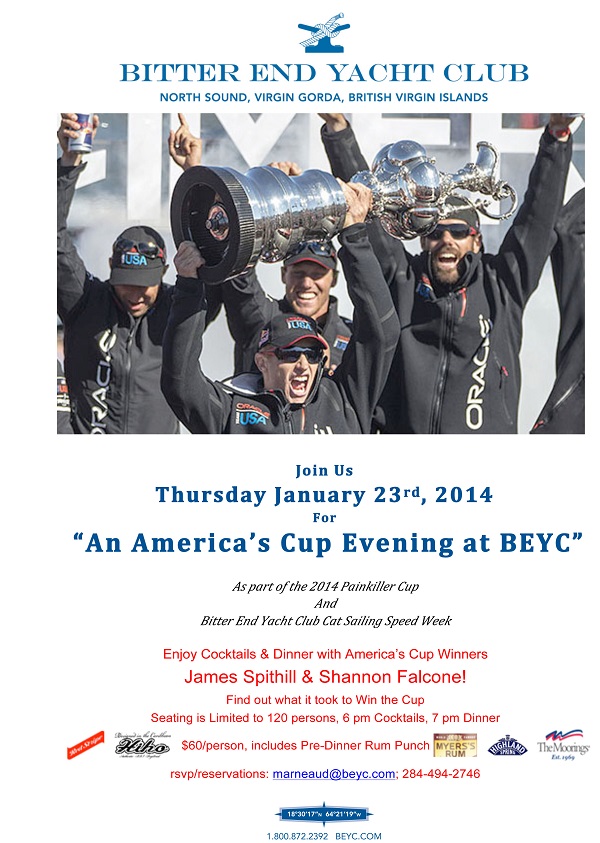 Own a Piece of America's Cup History
Oracle Team USA Members Speak at St. Thomas Yacht Club January 26, 2014
St. Thomas, US Virgin Islands. Reserve your place now! Hear how members of Team Oracle USA made America's Cup history last September by coming back from the brink of defeat to a decisive victory over Emirates Team New Zealand. Jimmy Spithill (helmsman/skipper), Shannon Falcone (grinder) and Kirst Feddersen (design engineer) will speak at the St. Thomas Yacht Club on Sunday January 26, from 5 to 8 p.m. This amazing story will also include how Falcone and Feddersen advanced from their home islands of Antigua and St. Thomas, respectively, to reach the pinnacle of the sport of sailing.
"We are excited to have Oracle Team USA at the St. Thomas Yacht Club!" explains organizer Margo Lynch. "This is an exciting opportunity to hear firsthand about the greatest comeback in sports history. We hope the sailing and boating community in the VI will join us for this great event!
What's more, own a piece of America's Cup history. Autographed Oracle Team USA dry bags and hats will be raffled off during the evening. Spithill and Falcone are in the Virgin Islands to compete in the Soggy Dollar Painkiller Cup in the BVI the day before. Regatta organizer, Andy Morrell, who is also a member of the STYC, has made this incredible opportunity to meet America's Cup winning sailors possible.
Proceeds benefit the STYC Youth 420 program. The 420 is one of the most popular two-person dinghies sailed by junior sailors. Antilles School sailing team members, who train in the STYC's 420s, have earned five national double-handed and two national singlehanded high school titles. There's no doubt future America's Cup sailors will come out of this program, and in doing so, underscore the U.S. Virgin Islands reputation as producing world-class sailors.
Tickets are available at $30 per child and $55 per adult. Hors d'oeuvres will be provided and a cash bar is available. Register online at www.regattanetwork.com/event/7597 by January 16 and get a 10 percent discount. Use Coupon Code AC72. Registration will also be available at the door. For more information, call (340) 775-6320 or visit www.styc.net
Save