Peter Holmberg re-elected as President of the Caribbean Sailing Association
Last weekend more than 30 people including  Caribbean regatta directors, Member National Authorities, Group O and ISAF representatives, measurers, race officers and other interested parties congregated at the Sheraton Hotel and Casino in Puerto Rico to attend the Caribbean Sailing Association (CSA) Annual General Meeting and Regatta Organizers Conference.  Representatives were present from Barbados, St. Maarten, Antigua, St. Barths, St. Thomas, St. Croix, British Virgin Islands, mainland USA, Puerto Rico, Jamaica and the Dominican Republic.

The AGM delegates. Photo by Benito Pinto-Rodriguez, La Regata.
During the AGM, renown world class sailor Peter Holmberg was unanimously re-elected to serve a second term as President of the CSA. Of the forthcoming year he says 'I look forward to serving a second term in the role of President of the CSA.  During the past year we have been focused on organization and structure within a number of key areas including our regatta sanctioning programme, some new joint marketing initiatives and getting our internal house in order.  Moving forward into 2014 we see a further strengthening of the organization and have discussed a number of new or re-directed initiatives, which along with the rest of the board I look forward to implementing.  Our goal is to strengthen the regional positioning of Caribbean racing on the world stage and ultimately generate positive economic benefit throughout the islands. With the stakeholders in place around the table last weekend, we feel confident that we can continue to do just that, and of course provide some of the best managed, challenging racing in the world for our visitors to enjoy. We also intend to revive our mission of helping to develop and promote small boat sailing throughout the islands.
Other CSA officers elected include Jaime Torres of Puerto Rico, Alison Sly-Adams and Kathy Lammers of Antigua, Judy Petz of the British Virgin Islands, Dick Stoute of Barbados and Amanda Maffessanti of Jamaica.  The final officer position is the Chief Measurer, who will be selected shortly by the measurers themselves.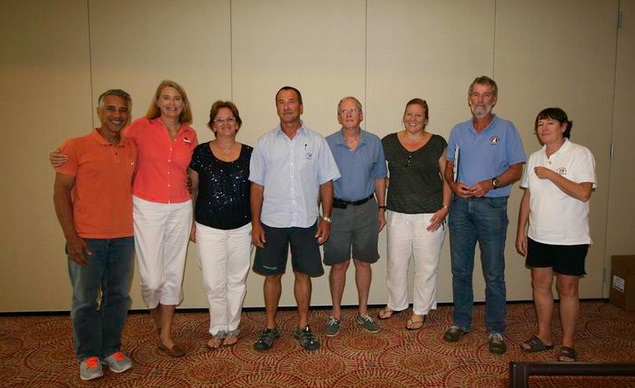 The New Board of the CSA – Jaime Torres, Judy Petz, Amanda Maffessanti, Peter Holmberg, Dick Stoute, Alison Sly-Adams, Alfred Koolen (acting Chief Measurer) and Kathy Lammers.Photo by Benito Pinto-Rodriguez, La Regata
Following the AGM, presentations and discussions about key developments in sailing, regattas, technology and many other related topics were delivered by service providers, officials, sponsors and board members.
The next edition of the conference will take place from 24th – 26th October, 2014.  Check back at www.caribbean-sailing.com for news on next year's venue and updates on regattas, sailing development and the CSA Rating Rule.
Any individual or organization interested in becoming a member of the CSA or attending the conference in 2014 should email news@caribbean-sailing.com to register their interest.
Save