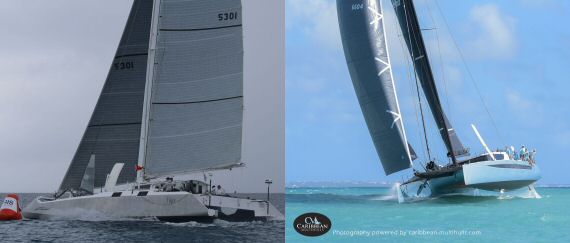 Simpson Bay, St Maarten: Brothers Greg and Todd Slyngstad have a lot in common. Each has been successful in their respective business pursuits and are accomplished sailors who race state-of-the-art, high-tech performance catamarans: Greg is the skipper of the Bieker 53, Fujin, while Todd owns a powerful HH66 called Nemo. Both have wreaked havoc in the annual Caribbean Multihull Challenge (CMC), the next edition of which is scheduled from February 4-6, 2022—Fujin won the overall prize in the inaugural running of the event in 2019, and Nemo took line honors as first-to-finish in all four races in 2021. With those accomplishments, it's safe to say the two sailors definitely know their way around the turquoise waters of St Maarten.
However, a new challenge will be waiting for the brothers when they line up to begin competition next February. For they won't have to deal solely with the other racers who wish to knock them off their CMC perches. No, this time they will have to also contend with each other.
With eight kids growing up in California's Bay Area—Greg is the fifth sibling, and Todd is the self-described "baby" of the family—one imagines the Slyngstad household was a crazy place back in the day. "We're both very competitive," Greg said about his relationship with his younger brother. "It's all in good fun."
As kids, it was actually Todd who first got into sailing, but after a career with Microsoft, Greg was the one who took it to the next level as a racing sailor, participating in many inshore and offshore races on the West Coast before commissioning his own sleek 53-foot cat, Fujin, a light, quick boat with a stunning profile reminiscent of early Polynesian catamarans. With a regular crew from the Pacific Northwest that includes two-time Olympic medalist Jonathan McKee, Fujin is an experienced, formidable foe.
But Todd was bitten hard by the catamaran bug after crewing aboard Fujin with his "big bro" in the windy Caribbean, which led him to commission his own cat, Nemo, when he was able to steal some time off from his busy job as the president of a paving company in Silicon Valley. Both brothers admit that one of the briefs that went to the HH design team of Melvin and Morelli was to come up with something even faster than Fujin, which is no small task.
That said, the boats are radically different vessels with very different strengths and characteristics. That was evident last summer when the brothers competed against one another for the first time in the 240-mile Vineyard Race on the New England waters of Long Island Sound and Buzzard's Bay. Thanks largely to its massive sail area and longer waterline, and relatively light winds that played to its strengths, Nemo was the winner of that first battle.
"In light air up to around 15 knots, as they showed, they're going to kill us," admitted Greg. Which is why he is very much hoping for the staunch trade-winds that can get served up regularly in the Caribbean for the next meeting, at the CMC. "Yeah, when the wind picks up…" he said, then paused. "Well, we haven't had that race yet. But that's what I'm looking forward to in St Maarten."
But Todd is also looking forward to the duel, and reckons Nemo may be a bit more competitive in windy conditions than his brother realizes. "I think we can still take them up to 18, 19, 20 knots," he said. "We have the longer waterline and when the sea state kicks up in heavier air, I'm not going to get kicked around like Fujin does, I'm going to accelerate through that stuff. I mean, it's all speculation on my part, but I think we'll do well on those 25-plus days. It should be fairly close. I'm anxiously awaiting to see what happens."
Whatever the weather, this "game within the game" between Fujin and Nemo promises to be a spectacular match for competitors and spectators alike. The time for talking is over. Let the racing begin.
About the Caribbean Multihull Challenge:
The St Maarten Yacht Club will host the fourth annual Caribbean Multihull Challenge from February 4-6, 2022. The event is open to all multihull sailors on racing catamarans and trimarans as well as chartered cats and cruising multihulls. For more information visit www.smyc.com/caribbean-multihull-challenge.
About the Sint Maarten Yacht Club:
Established in 1980 with the goal to promote sailing on the island of St Maarten. It organizes multiple sailing events throughout the year, with the St Maarten Heineken Regatta as its crown jewel. A youth sailing program stimulates local youngsters to become part of the sailing community, teaching them life skills like team work, perseverance and confidence. Always looking to further develop sailing on St Maarten, the Club is active in promoting the sport, as well as the beautiful destination it is located at. For more information visit www.smyc.com.