One month today the oldest trophy in the history of sports will be coming to Antigua, coinciding with the official start of Antigua Sailing Week.
Antigua is ideally located in the centre of the Eastern Caribbean,making it a natural attraction for visiting sailing professionals and amateurs alike, many of whom end up making it their home.  These islands feature some of the most important resources to fuel the passion of racing sailors – consistent trade winds, a large number of regattas of all types and sizes, warm air and water temperatures and plenty of sunshine – all of which attract sailors to pitch their skills against similarly inspired people.
Thirty years ago Carlo Falcone did just that – pulled up his anchor, sailed to the Caribbean and went on to make Antigua home for himself and his family.  Carlo's son, Shannon Falcone, grew up in Antigua and inherited his father's passion for sailing. Shannon has many impressive sailing achievements under his belt, which he topped off last year when onboard ORACLE TEAM USA for the greatest comeback in sporting history to defend the America's Cup.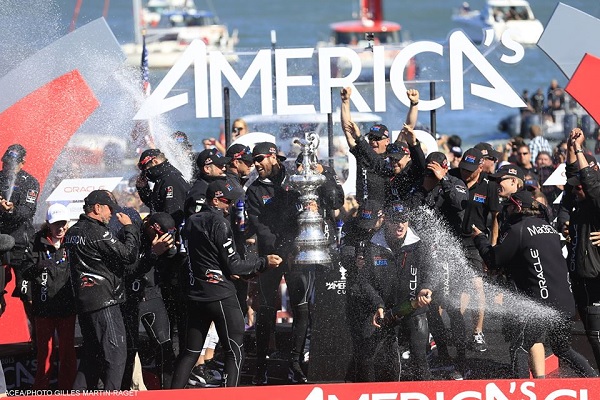 On his return to Antigua & Barbuda following the win, Shannon was humbled by the support and interest that Antiguans and Barbudans have shown in the Cup, his achievement, and sailing in general.  As a show of thanks for the support, Shannon has organized a Cup appearance to properly celebrate the unprecedented victory as only we in the islands know how. The oldest trophy in the history of sports will be coming to Antigua for two days only, Saturday, 26th April and Sunday, 27th April.
Shannon's ultimate goal is to share his passion for the ocean by inspiring the next generation to get on the water and to realize that they are capable of achieving their goals in life, no matter how difficult they may seem.  To help facilitate that, Shannon is founding The Lift Project, a non-profit company to help provide the resources and opportunities for local children to make the ocean their playground, as one never knows where it may take you in life, something Shannon discovered himself.
"I'm stoked to have managed to pull this off, a big thank you to everyone involved in making it happen. Bringing the Auld Mug to Antigua, especially to kick off Antigua Sailing Week, caps off the biggest year of my life so far. I was honoured to share the experience with my family and teammates in San Francisco, but now it's time to enjoy it with friends and everyone back home who supported me. Let's make sure to show it the interest it deserves, as this could be the catalyst for many amazing opportunities for our island in the future."
Shannon is equally excited in using this opportunity to launch The Lift Project, something that has been on his mind for some time and which he hopes kick starts a passion for the waterlust state of mind here in Antigua. The goal of The Lift Project is to inspire kids to appreciate, explore and enjoy our best local asset, the ocean, through progressive initiatives focused on teamwork and a greater respect for the environment.
In closing Shannon says, "Don't miss the chance to meet the trophy, as there is no guarantee it will visit our shores again, but here's to fighting for another win!"
Of the America's Cup Trophy coming to Antigua, Minister of Tourism, the Honourable John Maginley says:  "I see Shannon's success at the America's Cup and the planned arrival of the Trophy to Antigua during Antigua Sailing Week as a fitting celebration of what Antigua and Antiguans can achieve. There is no doubt that Antigua has and continues to develop outstanding sailors. For Shannon's achievement to be highlighted during our biggest sailing event in the year is perfect timing. Shannon has stretched the horizon for our youth sailors in Antigua, and for that we are very proud."
Antigua Sailing Week is delighted to announce that the week's official parties which start on Saturday, 26th April will begin with a public viewing of the Trophy from 4:00 to 6:00 pm in Nelson's Dockyard.  The Cup will also be on display on stage as part of the Yachting World Round Antigua Race Prize-giving and Antigua Sailing Week Welcome Party that evening. Other opportunities to view the America's Cup Trophy include from 9:00 to 11:00 am at Shirley Heights, from 6:00 to 8:00 pm at the Antigua Yacht Club Marina lounge and from 9:00 pm until midnight at Abracadabra Bar and Restaurant, all on Sunday 27th April.
As part of the Cup program while in Antigua, Shannon is also inviting Antiguan youths to a youth-only question and answer session at 5:00 pm on Sunday 27th April also at the Antigua Yacht Club Marina during which he will show them footage of the races last year, talk about his personal experience, and hope to ignite their own passion for the ocean.
During Antigua Sailing Week all attendees will have an opportunity to hear from Shannon on Monday 28th April on the lawn at Antigua Yacht Club when he, along with other America's Cup veterans including Peter Holmberg will be hosting an evening on stage to share their campaign experiences while showing some incredible video footage and telling the behind-the scenes stories about the America's Cup experience.
Latest news on Antigua Sailing Week- www.sailingweek.com/v4
Save