Seven competitors got their boat ready in time for the new Keelboat Racing Season and it promises to be a good one! Five boats competed in the Racing Class and there were two Sun Fasts 20 competing out in Simpson Bay in a steady 15-17 knots wind.
Steve Burzon and Petro Jonker organized a great Race Committee team and were able to start 4 windward – leeward races in Simpson Bay.
Wanna B, sailed by Joris v.d. Eynde and became fifth in the racing class. In the second race he became third, five seconds after number two. This shows the potential of this beautiful boat!
The Melges 24 from St. Martin, Caraibes Diesel, came in fourth place. Franny, J 70, helmed by Jessica Sweeney came in a very impressive third place.
The real battle was between the two Melges 24 teams from Island Water World. Team Island Water World 1, helmed by Frits Bus, and Team Island Water World 2 helmed by Sam Peeks.
Peeks took the first win of the day but was over early on the second start and had to go back. It was impressive to see that the team fought back and still managed to take a second place in that race. Frits Bus had trouble in the last start of the day, but it was close racing till the end.
Both teams took two bullets and two second places so they ended up in a tie. With Team Island Water World 2 taking the last win of the day, they became the winner of the day in the racing class.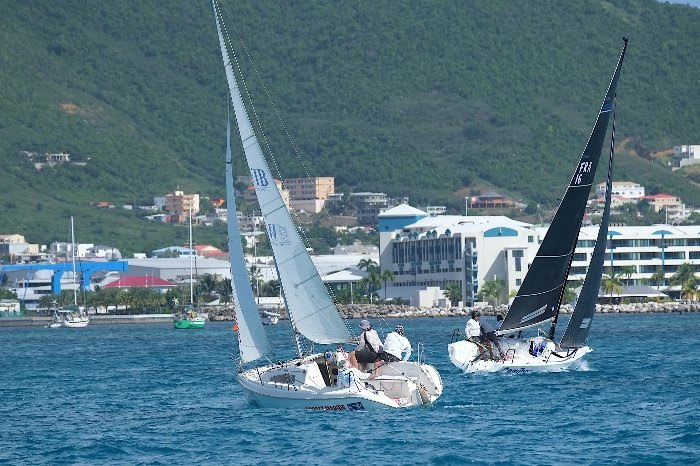 There was great competition going on in the Sun Fast 20, Robbie Ferron and crew sailed against Jordan Pieterse and crew. Even though, when they were sailing next to each other, Pieterse sailed higher and faster, Ferron took four bullets and took the overall win of the day. Pieterse her team is all under 18 years old and sailing in the Youth Sailing Program of the Sint Maarten Yacht Club. The Yacht Club is impressed by the commitment and progress that this young team is showing, well done!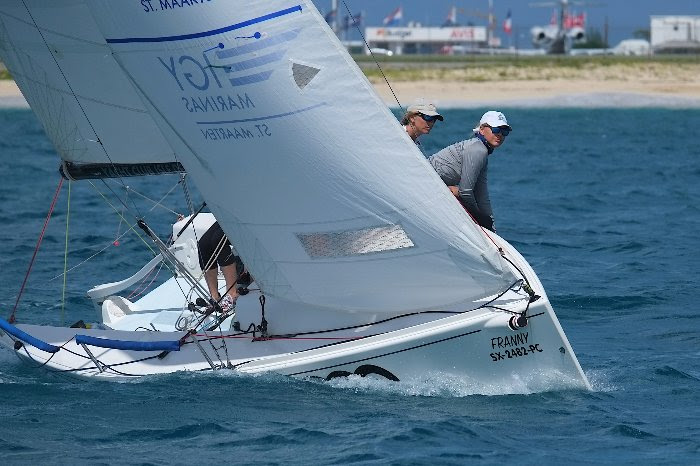 This racing day was the first day of the two day "Starter Series". The second day will be sailed on December 19. Whilst the win on the first day was taken by Island Water World 2, it shares the number of points with Island Water World 1 (Frits Bus) so that for the second day each have the same chances to win the "Starter Series" .
Pictures can be found here. Results can be found here!
The SMYC is also hosting the annual "Course de Alliance" which is a more offshore oriented event and takes place on the weekend of the 4th and 5th of December . Find more information about this great event here!