SIMPSON BAY: For the first time in the 12 year history of the Sol St. Maarten Optimist Championship, two young girls took home Top Honors in their classes of the event. First place Overall and 1st in the Blue class fleet went to 11 year old Roos Wind from Curacao and First place in the Orange Class went to St. Maarten's own 10 year old Emese Wurth, a student of Learning Unlimited.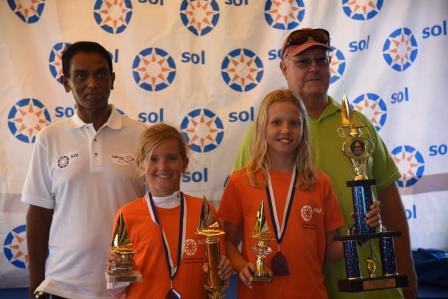 Lorenzo Mayer of St. Barths took home second place honors overall and in Blue Class, with Bas van der Gulik of Curacao capturing third place by only one point separating 3rd and 4th overall.
Twenty-nine young sailors ages 7-14 representing 6 countries took part in this International 2 day event sponsored by Sol St. Maarten. Six competitors from St. Maarten, 8 from St. Barths, 6 from Curacao, 3 from Antigua, 5 from Anguilla, and 1 from Columbia made up the starting line. Sailors were divided into two classes, Blue and Orange, with the Blue class being the most advanced. Eleven races were completed over the 2 days with 2 discards. St. Maarten Coaches Reinier Calkhoven and Jimmy Gieseke expressed "It was a really close regatta and all sailors exceeded our expectations."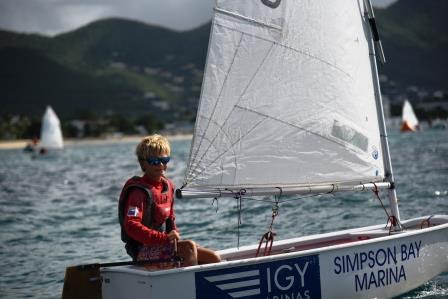 "Weather conditions were sublime," according to Race Officer Paul Miller of Regatta Guru. "Aside from one small squall that mixed things up for a bit, conditions were perfect for Opti sailing. No swells and 9 to 13 knot winds made for great competitive sailing outside in the waters off Simpson Bay Beach for the week-end. Sunday we were able to use a race course designed here on St. Maarten for the Optis based on the America's Cup that provided for spectacular starts and kept all the competitors sailing together for as long as possible."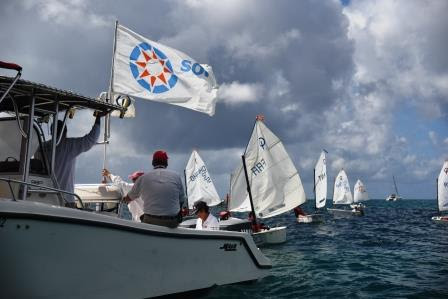 International Judge David DeVries from St. Maarten, back from being a judge at this summer's Olympics in Rio, was the Chairman of the Protest Committee.
Taking home second place in the Orange Class was 9 year old Shanoy Malone of Antigua, with Justin Pieterse (12) of St. Maarten capturing 3rd, only 1 ½ points behind 2nd place. Ten year old Rhys de Rooij of St. Martin took home the Sportsmanship Trophy for the event, as decided by the Race Committee for his outstanding performance after only starting to sail in September and displaying true and honorable racing throughout the weekend in the Orange Class.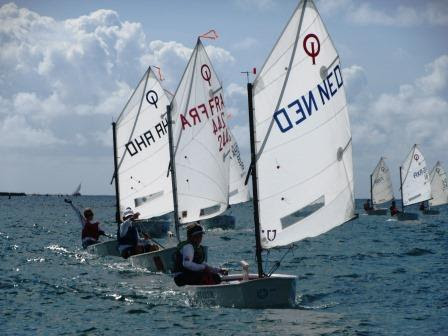 David Antrobus, General Manager of Sol Antilles, and Remie Kalloe, Sales Representative of Sol St. Maarten, were at the Prize-giving Ceremony on Sunday held at the Sint Maarten Yacht Club to award the trophies and medals to all the competitors. In his opening remarks, Mr. Antrobus expressed how delighted Sol St. Maarten was to continue sponsoring this high level youth sailing event and how all the youth can accomplish success when they set their minds to it. "Over the past 12 years, just as the Sol St. Maarten Optimist Championship has grown, so has the Sol Group, from 10 countries across the Eastern Caribbean to 23. We are proud of both these accomplishments along with our continued commitment to the marine community."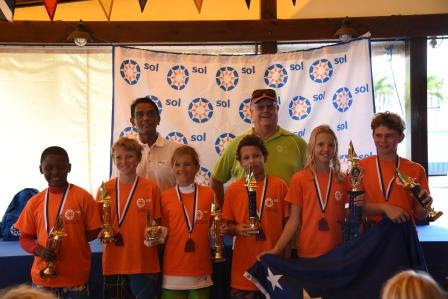 At the prize giving ceremony on Sunday, Janet Robertson, Organizer of the Sol Optimist Championship and Chairman of the SMYC Youth Sailing Committee had these extra comments to make:
"Thank you to all of you who traveled to get here. 6 Countries, 29 entries. We know it takes a great effort and we truly appreciate you coming and supporting our event. Without you consistently supporting us, we wouldn't be here right now." Thank you to all the competitors for all your hard work on the race course these past two days and thank you to all the parents, for encouraging your children to take part and compete in the sport of sailing.
Thank you to all the coaches for your hard work making these sailors strive to be their best– ours from SXM Reinier & Jimmy, Simon & Bee from St. Barths, Karl James from Antigua, Fien from Curacao, and Annette from Anguilla! Besides our title sponsor SOL, there are several others we need to thank that without their help this regatta wouldn't be the success it is."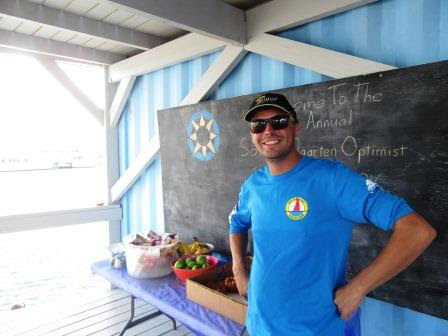 Save
Save